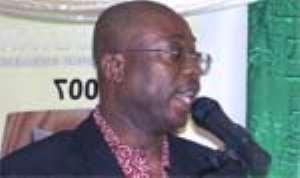 The Association of Ghana Industries (AGI) has expressed dissatisfaction over the recent increase in the prime rate from 14.25 percent to 16 percent by the Bank of Ghana.
According to the AGI, it is not certain the increment in the prime rate will achieve the intended results.
The Central Bank last Monday raised the prime-rate, which is the rate at which it does its overnight lending to banks.
The decision was primarily targeted at helping to curb the rising inflation since October last year.
But Tony Oteng Gyasi, President of the AGI says though the natural thing to do is to increase the rate to check inflation, the Ghanaian economy is not that matured to respond in that manner.
Mr. Oteng Gyasi therefore challenged the Central Bank to conduct a study to show the results the increment in the rate brings, apart from continually increasing the cost of doing business.
He told CITY & BUSINESS GUIDE that the upward adjustment in the prime rate will not necessarily prevent inflation from rising but increase the cost of doing business since bank charges will go up.

"Industry bears the effect whenever the prime rate goes up since interest rates on banks lending to the private sector increases", he lamented.
Inflation has been rising steadily since January this year due to the situation on the world market and the mounting cost of food.
Thus any increase in the prime rate affects the way banks lend to customers and businesses.
Meanwhile most banks are preparing to soon issue new base rates to indicate their new Average Percentage Rate (APR) charges.
While Barclays Bank base rate is 20.5 percent that of the National Investment Bank is 19.45 percent.
On the other hand, the base rates of First Atlantic Merchant and Prudential banks are 19.5 percent each.
By Charles Nixon Yeboah