African farmers face bleak future over land for biodiesel production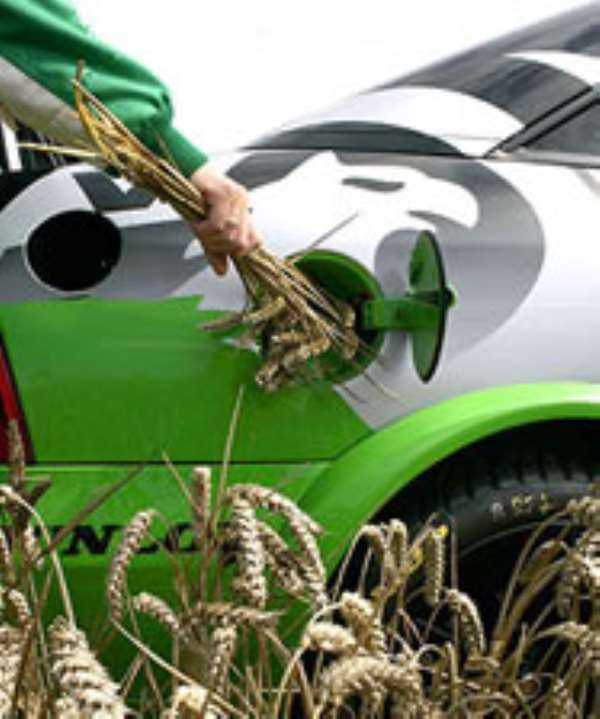 Officials of the Agricbusiness Accountability Initiative (AAI), an international network that promotes food system reforms in developing countries, say the future of African farmers will be seriously endangered should their respective countries yield to pressure from both the European Union and other western bodies to covert farmlands into the production of biodiesel.
Speaking to the dailyEXPRESS at the just ended UNCTADXII conference in Accra, the AAI's Global Advisor representing Africa, Joseph Ssuuna said the continent's agriculture sector will suffer massively should that happen. According to him, the projected cost will be too high for the ordinary farmer because "instead of using our lands to produce food we're being told to produce fuel."
"The absurdity of the whole thing is that the fuel is not for us as Africans but Europe" he told the dailyEXPRESS at the conference grounds.
Mr. Ssuuna who is also the Secretary General of the Pelum Association in East and Southern Africa, said the West, through this attempt, would like to ensure that crops like maize, soya bean and other important crops that are relied on by most African families are destroyed.
He argues that this deliberate effort will force most farmers out of employment, adding that the EU is aggressively pushing down this agenda because "Europe has no land to plant the necessary crops for the biodiesel fuel they so desperately want, Africa has therefore become their target."
Describing the plans as unfair, evil and criminal Mr. Ssuuna said Europe wants to continue its foothold on African countries by starving their population so that "they will jump into jet planes powered by fuel produced on our farmlands."
"Food is a human right issue and not a trade issue," he said emotionally.
Touhing on the global food crisis that led to unrests in Burkina Faso, Cote D'ivoire and Senegal, Mr. Ssuuna said a proper policy on agriculture tailored towards long term sustainable development would have enabled most African governments to export some of their produce to other developing countries outside Africa.
"But we have accepted agricultural models that are harming our sectors."
According to him, a proper investment policy by African governments would have ensured that they have proper storage facilities for reserves to feed the population for a very long period. He however warned that such a policy must have enough the teeth to bite, adding that the policy could look at how to build institutional capacity of farmers to enable them produce enough for the larger African market.
Europe, Mr. Ssuuna mentioned, has never been interested in the development of African economies and it is important that governments begin looking at strengthening existing regional institutions to enhance trade.
Joseph Ssuuna said an effective trading partnership among ECOWAS member states will effectively loosen the strong hold Europe and their allies have on African economies. He cited for example trading agreements between Ghana, Nigeria and Senegal and the positive impact that will have on their economies. He said the same thing could be done by those in the East, North, Central and Southern Africa regions. This is however not happening because of the fragmentation within the African leadership.
Meanwhile the Agribusiness Accountability Initiative has reminded UNCTAD to follow the logic of its own arguments and act against the devastating impact of financial speculation on the world's food market.
According to UNCTAD, limiting the impact of financial volatility on the worlds poorest and ensuring that the global economy benefits developing countries is among the key topics for the just ended conference.
Story by Nii Kwaku Osabutey ANNY
[email protected]