Why We Chase Money•Tackie Yarboi Of Victory Bible Church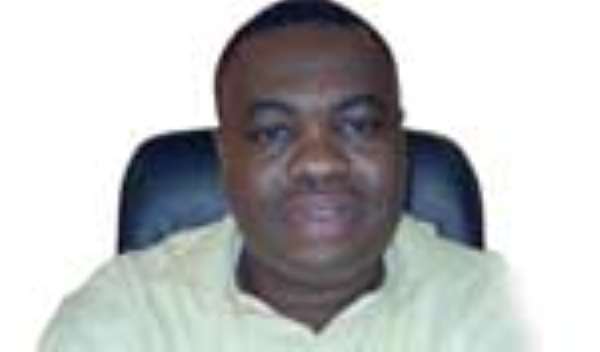 THE GENERAL Overseer of the Victory Bible Church International (VBC), Bishop Nii Tackie-Yarboi has told DAILY GUIDE exactly why he needs more of the tithes and offerings given by the thousands of members of his church both within and outside the country and what he uses the money for.
"When you come to think about the money that comes in through offerings and the needs of the church, you would realize that the money goes back to the church. Many people forget that when the church becomes large the bills become larger because the Electricity Company of Ghana starts to charge you commercial rates and the Water Company does same. There is nothing that is for free and even the daily maintenance alone is very high," the charismatic Bishop indicated.
He as well gave an insight into church business, explained how come some leading pastors were perceived to be living affluent lifestyles and delved a little into his family and upbringing.
The Victory Bible Church International, headquartered at Awoshie, a suburb of Accra, is a thriving charismatic church with 90 branches, of which 73 are in Ghana and 17 outside the country.
DAILY GUIDE caught up with Bishop Nii Tackie-Yarboi for an exclusive interview.
(DG): How old is your church?
Tackie-Yarboi (TY): Victory Bible Church is 23 years old. We started in June 1985. The church started at Kokomlemle but what happened was that we used to have a students' group and when I felt I was called, I announced to them that God has called me to enter into ministry and that was it.
DG: Has the contemporary Church become a lucrative business venture?
TY: That perception is a fallacy. It is not true at all. The church being a money-making venture is not true but what gives the impression is that when you come to think about the money that comes in and the needs of the church, you would realize the money goes back to the church.
Many people forget that when the church becomes large, the bills become larger because the Electricity Company of Ghana starts to charge you commercial rates and the Water Company does same.
There is nothing that is for free and even the daily maintenance alone is very high.
Secondly, attending to the needs of members are expensive. The church is a cross-section of society where those who are well-to-do are not as many as those who the church would have to support.
In Victory Bible Church we have what we call the Care Group for Widows; we have a scholarship scheme for various students; helping people both formally and informally and we do other things that are difficult to explain. Church money is not easy at all.
For me, I think that if it is because of money that I am in church then it is a wrong thing and anybody else who says I am a man of God because of money would be very wrong.
The reality is that there are people who have a certain lifestyle and they do not have structures of checks and balances put in place, but Victory Bible Church has those structures put in place and we have the Apostolic Council and the Executive Council which are in charge of the day-to-day running of the church. We also have a Finance Committee that makes sure finances are checked.
It is not that when we close from church, all the money comes to me. I am on a fixed salary and I pay my taxes and Social Security. If we default, SSNIT comes after us, Income Tax (Internal Revenue Service) comes after us. The church itself does not pay taxes but we are employees of Victory Bible Church and we pay tax.
Unfortunately there are those who give the wrong impression because of their lifestyle but I would want to say that those lifestyles should not be generalized because if you look at pastors and churches that are living within their bounds they are more than those who are wayward.
But if you think that church is a money-making-machine then you are very wrong.
DG: Then how come most leading pastors are very wealthy people?
TY: What do we use to measure the perceived wealth of Men of God? Is it the cars they drive? Because the car I drive is in the name of Victory Bible Church. It is not mine. That is where the problem is. People assume that because we are pioneers or the founding pastors the church and all its resources are our personal properties.
No. The church is the property of the church members and they own everything in the church.
There are other Men of God who do other things; they write books, and they have other personal businesses apart from pastoring the church.
DG: Who is a man of God?
TY: A man of God is someone who has been called by God to be an intermediary between man and God. He is also someone who stands on behalf of the people and takes the people's needs to God and then in turn speaks God's mind, God's intent and God's agenda to the people.
What brings about the Man of God is the fact that the Bible says that God had an intention for creating man but unfortunately for us it was violated and so God is always seeking an intermediary between Him and man so that His anger or the various retributions that man deserves would not come.
DG: So you are an intermediary between men and God
TY: Not an intermediary like Jesus but I tell them about the mind of God from the scriptures and I also minister to them or pray for them, in the sense that I try to attend to those who are broken-hearted, I try to attend to those who are sick, attend to those who are going through various social challenges and bring them to God.
It is a two-way flow - that is taking people up to God and bringing God's ideas, God's message to the people. Relating to people and making sure that people are able to connect to one another.
DG: How did you become a man of God?
TY: I believe strongly that I responded to a call and my call was not so dramatic. Somebody preached about salvation and when he was speaking I felt so touched and I realised that I am a sinner and I decided to give my life to Christ but for some reason, on that day it dawned on me that I would be doing God's work. I did not know how but when I look back now I would say God spoke to me.
DG: When was that?
TY: It was around 1975 or 76. I used to go to the Scripture Union once a while but I did not understand salvation.
DG: Is teaching your area of ministry?
TY: O yeah, one of the areas that God has placed upon my heart is always wanting to know why things are the way they are and I do a lot of studying, searching, finding out and I like to preach too. Teaching is the systematic impartation of truth while preaching is the impartation of truth by demonstration so when you are preaching, you do not spend too much time explaining.
DG: Before you became born again, what were you doing? Where did you grow up? Where were you born?
TY: I was born in Kumasi in the Komfo Anokye Hospital. That was where my parents were, though I am a Ga. They were working in Kumasi. At about age six I was brought to Accra where I stayed in Osu Kinkawe and went to school at Darle 2 Primary, around the Accra Sports Stadium. I then went to Osu Presbyterian Middle Boys Boarding School. I then went to Middle School Form Four at a school in the Akweteyman area and from there I went to the Ebenezer Secondary School, where I went through Forms one to five.
From Ebenezer I went to do my 'O' Level for the second time because to be honest with you, my focus on studies which I would not hide was affected because I was always either reading Bible or praying or organizing the Scripture Union or having one retreat or another so it affected my studies.
I did my A' Level at Workers' College, in which I also did not do too well but it then seemed as if I had found my career path. And that is what has brought me to where I am today.
DG: Bishop, tell me about your family.
TY: I am married to Dora Tackie-Yarboi whom I met through church. I knew her already in Labone Secondary School but we were just friends. Then after some years we happened to meet again in church and one thing led to another.
We have three kids - two boys and one girl - as at now.
DG: Three kids as at now.
TY: Well, I guess that would be the end because our last born is 13 so basically that is where we are now.
DG: What is a typical day like for a Man of God?
TY: My day starts around 4.00am and first thing is to pray then study and then come to the office at least by 10.00am, where I get a report on what is happening administratively and get a report on the various churches. I then do my ministry work of visitation, counseling and interaction but those things come as and when it is necessary. I go home after the day, to my family. At times I go to the gymnasium.
DG: Oh, do you go to the gym?
TY: Yes I go to the gym, but not continually.
DG: Finally, what is your message to the Christian community?
TY: I would want to tell the Christian community that we should go back to our purpose; why we were set up. That purpose is for us to go into the world with the Great Commission and preach the gospel to every creature and teach people about the Lord Jesus Christ.
No matter how we follow other mandates, like our mandate to make our society better, or our educational mandate to make people become educated, like the missionary schools did some years ago, we should still go back to our basic mandate of going with the Great Commission and teaching people about our lord Jesus Christ.
By Halifax Ansah-Addo