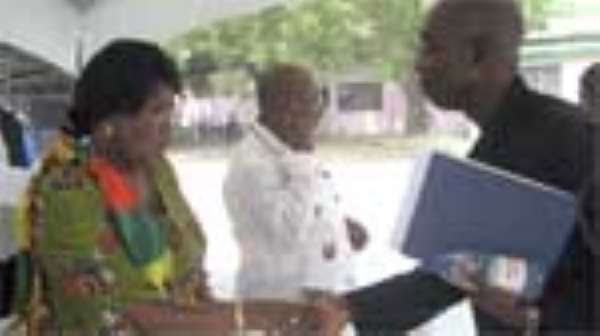 THE Ministry of Fisheries has vowed to deal ruthlessly with any operator in the fishing industry who violates the country's Fisheries Act 625.
The sector Minister, Mrs Gladys Asmah, who gave the warning when she met operators of industrial trawlers in Accra, said intelligence report reaching her outfit indicates that some fishery operators are engaged in activities contrary to the laid-down rules and regulations in the Fisheries Act.
The Minister mentioned fishing in the Inshore Exclusive Zone (IEZ), tampering with transponders of Vessel Monitoring System (VMS) and destruction of fishing gears as some of the illegal activities.
"In fact strong and wealthy operators should not be allowed to bully the weak and poor operators.
The ministry would ensure that fishers in the country go about their businesses without harming others," she intoned.
Mrs Asmah noted that though her ministry had prohibited industrial trawlers, pair trawlers, shrimpers and large semi-industrial vessel operators from operating in the Inshore Exclusive Zone, some stubborn ones continue to stray into the zone, resulting in destruction of gears, loss of property and conflict among operators.
She reminded industrial trawlers operators that the IEZ was reserved for the exclusive use by artisanal fishermen, small semi-industrial vessels and recreational fishing.
Consequently, the Minister said: "Any industrial vessel that destroys the fishing gear of artisanal fishermen that have been appropriately marked will pay a fine of $5,000-$100,000 and in addition pay full compensation for the destroyed gear."
Mrs Asmah said the fisheries Act 625 prescribed penalties, fines and sanctions for industrial vessels which operate in the inshore exclusive zone, adding, a vessel monitoring system has been put in place to check activities of pair trawlers.
She warned that any vessel operator who tampers with the transponders at sea as a way of avoiding being tracked by the Vessel Monitoring System installed by her ministry and thereby renders it inoperable would pay for the cost of damage and have its licence cancelled or suspended.
The meeting aims to discuss the negative impacts of pair trawling on artisanal operators, and look at the way forward.
By Felix Dela Klutse