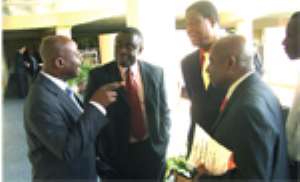 The Association of Ghana Industries (AGI) says it will step up its fight against illegal container charges being levied by shipping companies, maintaining that the practice does not augur well for business in Ghana.
The body is therefore coordinating with the Ghana Institute of Freight Forwarders (GIFF), the Ghana Chamber of Mines, the Ghana Union Association of Traders (GUTA) and the Ghana National Chamber of Commerce and Industry to present a petition to government on the illegal levy, which is hindering business growth.
According to the president of AGI, Tony Oteng-Gyasi, such a practice is hindering industrial growth since huge monies are being spent on importing goods into the country, thus making the industry less competitive.
"We will push our case fervently in order to persuade government to show much concern in helping address this problem in a judicious manner," he told CITY & BUSINESS GUIDE in an interview.
Mr. Oteng Gyasi is worried that while consignors in the country of origin pay freight charges to the shipping lines for shipments, consignees in Ghana who take delivery of those shipments also pay freight charges to the shipping lines in addition to all the duties and handling charges at the ports. "This is illegal and it must be stopped with immediate effect," he added.
Though government has in recent years informed the shipping companies to scrap those charges, it seems the companies have failed to heed the call.
A recent study by GIFF also revealed that the country has over the last 8 years lost an estimated $200 million through these illegal charges by the shipping companies at the ports.
Mr. Oteng Gyasi therefore called on the government to address this problem in earnest. "We need to improve the business environment in Ghana so as to attract numerous investors into the country".
Taking a cue from 15 per cent levy on raw cocoa beans exported to China as compared to 8 per cent in powdered form exported to the same country, Mr. Oteng-Gyasi emphasised on the need to process raw materials here, rather than exporting it in the raw state.
By Charles Nixon Yeboah