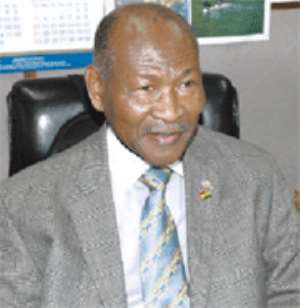 Those who know him well describe him as a very strict disciplinarian and an outspoken person. Even those who did not know him before but watched or listened to the proceedings of the Stadium Disaster Commission set up to investigate the May 9, 2001 Accra Stadium disaster attest to this character of Mr Sam Okudzeto.
His kind of discipline is something he developed right from his childhood. Growing up, he said, he realised that he always liked to do things the right way.
"I was someone who spoke my mind, which made me have a tough time with my Maths teacher in secondary school. I tried to correct what I thought was an error anytime he taught and the teacher used to be angry and walked me out of the class several times," he said.
His relationship with his juniors was no different. You know, it is probably because of his nature that the New Patriotic Party (NPP) made him the Chairman of its Disciplinary Committee.
A private legal practitioner based in Accra, Mr Okudzeto told the Junior Graphic in his chambers in Accra, that his love for discipline was something he learnt from his father, Mr Ben Agbakpe Okudzeto, and Mr Dzirasah, his teacher who happens to be the father of Mr Ken Dzirasah, a former First Deputy Speaker of Parliament, whom he lived with.
"My father was very strict and he said what he thought, without fear, and I believe I have taken after him," he noted.
The ninth born of the 11 children of his mother's, Mr Okudzeto was the only boy who survived.
"That accounts for my name Samuel. I was given that name when I was baptised at the age of 10 because my mother felt I was like the Samuel in the Bible. She felt I was an answer to her prayers and that prophetic balance has always guided my actions and behaviour," he stated.
Mr Okudzeto grew up in a polygamous family. Unfortunately, the challenges that went with that kind of family set up caught up with him when at age three, his mother separated from his father. Consequently, he went with his mother to Mafi Kumasi in the Volta Region where he started school.
He described the town as prone to drought so by the time he was only eight sometimes they travelled about seven kilometres climbing mountains to fetch water. Because his mother was a farmer, sometimes after school and during weekends he went to the farm to weed.
Mr Okudzeto said today when he reflected on the past, "it seems like a dream. Just imagine that there were no trucks and cars, yet I had to travel more than 10 km by road to visit my father during vacations at Adidome".
At the age of 10 Young Samuel went to stay with his father at Adidome. While there, according to him, they had to wake up very early every day to fetch water from the Volta River to fill barrels.
They also set traps for shrimps and also learnt to dive to catch oysters from the river.
Mr Okudzeto described Adidome as a place full of mango trees, especially along the banks of the river.
"So usually on Saturdays, during the mango season, we went there to wash our clothes and climbed the mango trees and feasted on the fruits," he recalled.
Samuel started Standard One at the Presbyterian School, Adidome. He said as a student, he liked to "concentrate on his books, studied well and passed because I did not want to be beaten. I was always afraid of the cane because my skin is very delicate and the least thing always resulted in a cut."
When the 1948 Crossroad shooting occurred and soldiers looted most of the European shops, his father's shop was affected because he was a UTC shopkeeper. As a result, his father and the entire family went to settle at Atorkor in Anlo.
Atorkor is between the sea and the Keta Lagoon so young Samuel used to go to the lagoon to catch tilapia and also to the sea to help the fishermen for a token of fish.
Mr Okudzeto had his secondary education at Zion College at Anloga. He said the school had a band so they learnt ballroom dancing such as waltz, quickstep, tango, fox step, etc.
As a student, he said he liked to go to class having read the topic in advance and that enabled him to understand his teacher when he taught. That accounted for his ability to detect errors anytime his Maths teacher erred.
After secondary school, Mr Okudzeto taught at the Adidome E.P. Middle School, Mafi Kumasi and Somanya Universal Commercial College. He later left for Accra and worked with the then Electricity Department as a clerical officer.
He was there for nearly a year and left for further studies abroad. He studied at the Leeds College of Commerce, England, as a company secretary accountant.
Mr Okudzeto then proceeded to study for his law degree at King's College, London University, and became a lawyer on July 9, 1963. He returned to Ghana at the end of 1963 and practised law at Law Chambers, the biggest law firm in the country at the time.
He set up his own law firm in 1971 after Law Chambers was disbanded. Mr Okudzeto helped Mr Gbedemah to form the National Alliance of Liberals and became a Member of Parliament (MP) in the Second Republic.
An Anlo and Ada, 72-year-old Mr Okudzeto is married to Mrs Priscilla Okudzeto and together they have six children.
Story by Augustina Tawiah