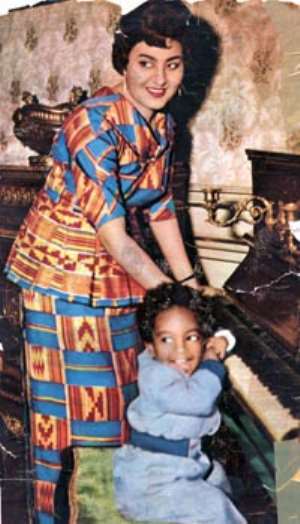 Madam Fathia Nkrumah, 75, the widow of the late President Nkrumah is dead.
Madam Nkrumah was suffering from stroke and died in a hospital in Cairo, Egypt.
One of the sons of Madam Fathia, Mr Sekou Nkrumah told Joy News shortly after her death that although his mother's death was sad to hear it was something the family expected due to the complicated nature of the illness.
"It is sad in a way but at least we should celebrate her life…I was expecting the worst. At her age I believe all kinds of things take place in her body," he said.
Mr Nkrumah said it was good President Kufuor took time off to visit his mother before her death. He said that should serve as a basis for all Ghanaians to shun political differences and live in unity.
Information reaching modernghana.com indicates that She will be buried in Cairo at a Coptic Cathedral tomorrow Friday 1 June.
"Good timing on the President's part to visit her before her death. Ghanaians need to move beyond partisan politics and see ourselves as one," he said.
Madam Fathia was a very young wife and mother of three very young children when her husband was overthrown in Ghana's first successful military coup on February 24 1966.
May her soul rest in perfect peace.