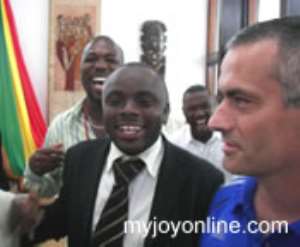 Chelsea coach Jose Mourinho is all too pleased with the clubs charity work in Ghana with the Right To Play.
He sees the humanitarian angle to his job more as a human face of great value to the football club, and says great football clubs cannot be borne out of only trophies, cups and big wins on the field of play.
On Wednesday afternoon he was at the El-Wak Stadium in Accra with members of the Chelsea delegation in Ghana holding coaching clinics for young players bubbling and ready to explode unto the world scene 'just like Michael Essien.'
Earlier in the day, he had said of Michael Essien; "Even though many people describe Michael Essien as a great footballer, for me he is a great man."
This was at a press conference where Mourinho expressed his desire and eagerness to make the best of his five-day stay in Ghana where he would be working with Ghanaian kids and help develop their skills.
He told the news conference that the measure of a football club lies not only in the number of trophies they win but also by how much it gives back to society.