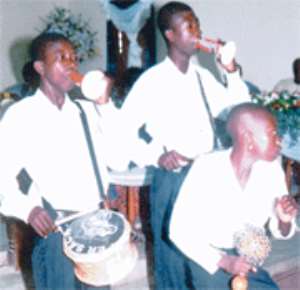 The Minister of Health, Major (Retd) put aside his ministerial portfolio to dance to songs by three brilliant siblings during the 40th anniversary celebration of the Lorenz Wolf Evangelical Presbyterian Church in Tema.
The Minister, who was a special guest at the anniversary, could not help but get on his feet with the clergy to dance to some praise and worship songs performed by the young talented siblings who often perform at functions to fend for themselves.
The three siblings, Wisdom, David and Fortune Adegbedzi, hail from Dzodze in the Volta Region and attend the Bagome Local Authority Primary School.
The siblings, who are very popular in the Volta Region, have been performing publicly for the past five years. Interestingly they play with local instruments which they made themselves.
Story bySamuel Tei Adano