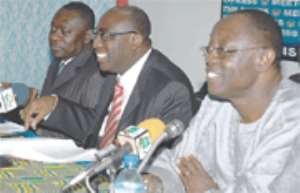 Proposals are being studied by the government for the establishment of three more state universities as part of efforts to expand tertiary education in the country.
Minister of Education, Science and Sports, Papa Owusu-Ankomah, who announced this at the Meet-the-Press series in Accra yesterday, said, however, that the location of the universities and their programmes had not been decided yet.
In addition, the minister said with the support of its development partners, the government would set up central distance learning centres all over the country to ensure that those in the rural areas also benefited from tertiary education.
He added that polytechnics would also be encouraged to introduce distance education in their programmes.
He also announced that the ministry had adopted a "means testing" system under which students who needed more money for academic activities would be given more loans under the Students Loan Trust Fund (SLTF) with effect from the 2007/2008 academic year.
"We want to ensure that those who really need the loans get more for academic activities and not just give out money," he stated.
Papa Owusu-Ankomah said the SLTF had so far granted loans to 6,854 first-year students in 42 tertiary institutions in the country.
On basic education, he said the acceleration of the Free Compulsory Universal Basic Education (FCUBE) policy with the introduction of the Capitation Grant and the School Feeding Programme was a means to increase access to education in order to support the nation's development agenda in the area of human resource.
Total enrolment in both private and public kindergartens in the 2006/07 academic year, he said, stood at 1,104,779, representing an increase of 10.6 per cent over the 2005/06 enrolment figure of 998,819.
Papa Owusu-Ankomah said enrolment at the primary level also rose from 3,122,903 in 2005/06 to 3,365,762 in 2006/07, representing a 7.8 per cent increase, adding that the enrolment figure at the Junior Secondary School (JSS) level was 1,132,318, representing an 8.8 per cent increase over the figure for 2005/06.
"Access to secondary education is rapidly on the increase in both public and private Senior Secondary Schools (SSS). Enrolment in public SSS is 376,049, which is an increase of 19 per cent over the 2005/06 enrolment figure of 314,310," he explained.
On infrastructure, he said 12,452 classrooms had been provided at the basic level, thereby increasing the number of classrooms from 104,232 in 2005/06 to 116,684 in 2006/07, while the number of permanent classrooms for SSS increased from 7,830 in 2005/06 to 9,835 in 2006/07.
Papa Owusu-Ankomah indicated that to further expand access to basic education, work on the construction of 440 six-unit classroom blocks with ancillary facilities in all districts was ongoing and that ¢138.6 billion was spent on the projects last year.
"So far, 300 classroom blocks have been completed. It is anticipated that the rest will be completed by the end of 2007," he said, adding that construction work on 65 six-unit classroom blocks had begun.
He said as part of the ministry's programme to motivate teachers to accept posting to deprived areas, various incentive schemes, including accelerated promotion, support through distance education for teachers offering English, Mathematics, Science, French and Technical Education, and the provision of accommodation, were being considered.
Story by Emmanuel Bonney