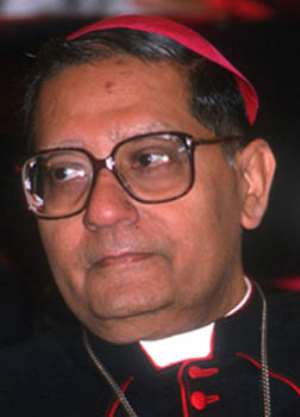 President John Agyekum Kufuor has granted audience to His Eminence Ivan Cardinal Dias, Prefect of the Congregation for Evangelization of Peoples, and renewed his invitation to the Holy Father for a visit to Ghana.
The country, he said, was still hoping the Pope would find space within his tight schedule to join in the celebration of its year-long celebration of 50 years of nationhood.
"This would be the happiest moment for most Ghanaians," President Kufuor said.
Cardinal Dias is in the country as the Papal Legate of the Centenary Celebration of the Catholic Church in the Northern region at Navrongo.
At his meeting with President Kufuor, he extended the Pope's best wishes, prayers and blessings to the Government and people of Ghana on the occasion of the country's 50 years of political independence.
Cardinal Dias' Ministry at the Vatican covers Africa, Asia, Pacific Islands, South America and the Caribbean.
He was the Papal Nuncio in Ghana nine years ago.