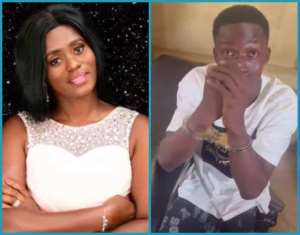 There has been a murder incident at Apaaso, a suburb of Kumasi in the Ashanti region.
A young businesswoman highly respected has been killed allegedly by her male house help.
The deceased identified as Afua Ahenkan and popularly known as Princess Afua was found dead in the garage of her home at Apaaso on Tuesday, September 12.
She was reportedly found in a pool of blood with multiple stab wounds on various parts of her body.
Information gathered indicates that a young man he hired from an urgency a month ago is the suspect behind the murder.
The deceased employed the services of the male house help to support her at home since her husband is based in the United Kingdom.
It is reported that the suspect attacked Madam Afua Ahenkan while she was on a phone call.
The other person on the other end of the phone heard her scream for help but could not hear from her again.
She attempted calling back but the deceased could not answer her phone.
Alarmed by this, she travelled to the house of the deceased and found her dead in her garage.
The suspect is said to have run away with the car, money, and other valuables of the deceased businessman.
Police officers assigned from the Ashanti Regional Command from the latest information gathered on the matter have traced the suspect to his hideout and arrested him.
Meanwhile, the body of the deceased has been deposited at the Komfo Anokye Teaching Hospital morgue awaiting autopsy.