"Gold gleams throughout the Ashanti story: one wonders in retrospect whether the punitive expedition would have been quite so dedicated if the major product of Ashanti had been anything else but the potent lure." Russell Chamberlin. (1)
When I read an article in the BBC News entitled 'The ruler of Ghana's Asante people is pressuring the British Museum to return gold items in its collection,'
I was delighted, for I thought what I have been praying for since my infancy and writing about for decades was about to become a reality, or at least the process was starting. (2) This seemed a great chance to reconcile with our historical oppressors.
Readers will recall that I have explained in several articles how the British attacked the Asante in several wars in their attempt to take control over the Asante kingdom and subjugate not only the Asante but also the other peoples in the area that became the Gold Coast, and since Independence in 1957, Ghana. (3)
The British had come from Britain to the West Coast of Africa in search for gold in an area so rich that the Portuguese, the first Europeans who came to there in 1471, called it Cabo d'Ouro ,Gold Coast. British, Danes, Dutch, Germans, Norwegians, Portuguese, and Swedes came to this rich land to seek fortune, were in constant war, carried on trade in gold, and dealt in slavery. The various castles and forts along the coast of Ghana, including the first castle, Elmina Castle, São Jorge da mina, built in 1482, are evidence of European interest and presence in the area. (4)
After several wars and, the British defeated the Asante in the so-called Sagrenti War on April 4, 1874. The British troops, commanded by Sir Garnet Wolseley, known in Twi as Sagrenti, entered Kumase without Asante resistance and sacked and burnt the Asante capital.
Henry Brackenbury, secretary of Wolseley, who witnessed the ransacking of the Palace of the Asantehene, Otumfuo Nana Kofi Karikari and the houses of Asante nobles, gives this description:
"The first room visited was one which during the day had been seen to be full of boxes, some of which, at all events, contained articles of much value. Here we found those gold masks, whose object it is difficult to divine, made of pure gold hammered into shape. One of these, weighing more than forty-one ounces, represented a ram's head, and the others the faces of savage men, about half the size of life. Box after box was opened and its contents hastily examined, the more valuable ones being kept, and the others left. Necklaces and bracelets of gold, Aggrey beads, coral ornaments of various descriptions, were heaped together in boxes and calabashes. Silver-plate was carried off, and doubtless much left behind. Swords, gorgeous ammunition-belts, caps mounted in solid gold, knives set in gold and silver, bags of gold-dust and nuggets; carved stools mounted in silver, calabashes worked in silver and in gold, silks embroidered and woven, were all passed in review. The sword presented by her Majesty to the king was found and carried off; and thousands of things were left behind that would be worth fabulous sums in cabinets at home." (5)
Henry M. Stanley, who accompanied the British Punitive Force, ends his list of looted Asante items with the phrase: "And so on, ad infinitum, of valuable, curious, and worthless things heaped together in every room." (6)
Geoffrey Robertson wrote in WHO OWNS HISTORY ?
'When he captured Kumasi, it was British army business as usual - seizure of all valuable property from palaces and private homes, then burning the city to the ground.(Wolseley had been with Elgin at the Old Summer Palace in 1860). They took all the gold treasures they could find- masks, breastplates, knives of gold and silver, carved stools mounted in silver and gold, embroidered silks and other treasures, stuffed into soldiers' knapsacks or placed in the 'booty store', which Wolseley took back to auction in London to defray the cost of this 'punishment expedition' which had ended with no crime to punish
It was a simple war of colonial aggression, for gold and for 'free trade(the surrender treaty required both). The artworks ended up in the V&A and the British Museum, with many others bought by a private collector named Sir Richard Wallace, hence the Wallace Collection where they can now be found, including the 8-inch -high mask which is the largest known gold work from Africa.' (7)
My joy at the news that the British could return the Asante gold artefacts immediately vanished when I read further that' The British Museum told the BBC it is "exploring the possibility of lending items" to Ghana.' Lending Asante items to the Asantehene? The British Museum was at its best here. Using a pseudo-polite language behind which there is a lot of disdain to hide a monstrous standpoint. Considering the relations between the Asante Kingdom and the British colonialists, how can anyone suggest a loan of looted Asante treasures to the Asantehene? Is there a greater insult than this? Those who stole our works of art come after almost 150 years to loan us our treasures instead of simply returning them.
The loan of looted Asante treasures to the Asantehene is simply anachronistic if we consider the history of restitution in our times. The Benin people have rejected loans and received full returns of the famous Benin bronzes from museums in Britain, the United States, and other European states such as the Netherlands and Belgium, are preparing to return looted items. Germany has transferred legal rights in over a thousand Benin artefacts to Nigeria and the Oba of Benin.
We will be paying insurance for our looted artefacts that are now being offered on loan, no doubt, to a British Insurance firm selected by the British Museum. Of course, we will be paying the transport costs even though the need for transport has been made necessary by those who took our treasures from Kumase in the first place. The homepage of the museum clearly states:
Loan costs
The British Museum expects borrowers to cover all direct costs connected with the loan, such as:
Transportation and courier costs
Crating and packing materials
Insurance or cover through a national indemnity scheme
Condition photography
International borrowers may also be asked to contribute to the costs of preparing the items for loan, including administration, technical and essential conservation work.
We should bear in mind that there are proposals to make those who accept loans from the British Museum to recognize first the British ownership of the object before a loan agreement can be signed. Can we envisage even for a moment the British ownership of objects they looted from Kumase in 1874? (8)
We would suggest to those representing Asante/Ghana in negotiations for the restitution of the looted artefacts to reject without hesitation any offer of loans. If the British cannot, after 150 years of detaining illegally looted Asante artefacts, they should keep them until they finally accept that stealing and controlling other people's treasures for 150 years and refusing to return them, is wrong.
The illusion, promise or suggestion, that a loan may be later converted into outright restitution, must be evaluated against concrete historical examples in which the British Museum was involved, and the national treasures concerned were similar or equivalent in value or importance to the golden Asante treasures looted in 1874 by the British. I know of no such examples even though I have been dealing with these issues now for almost two decades.
We should not be under any misapprehension. The British Museum and the British Government, supported by certain groups of the ruling classes, are determined not to give up the pre-eminence the British Museum has through its detention of vast numbers of artefacts of others, about 13 million, mostly looted during the colonial period or acquired under dubious circumstances. (9)
Since the recent discussions on restitution and subsequent actual returning of artefacts to the countries of origin, as required by various UNESCO/UNITED NATIONS resolutions, many countries have undertaken steps to reform their laws in order to enable restitution. France is in the process of adapting her laws,
Netherlands has a text waiting for governmental approval, Belgium has passed new laws and the German the Federal States in conjunction with the Federal Government have adopted decisions that enabled them to pass to Nigeria legal ownership rights in 1300 Benin artefacts. (10)
There has been no such major efforts in the United Kingdom to change the British Museum Act 1963 that is said allegedly to prevent the museum from effecting restitution although the text of the act appears permissive. It is also evident that if there were really a strong will to restitute African artefacts, this could have been done as was done in the cases of victims of Nazi spoliation by passing the Holocaust (Return of Cultural Objects) Act 2009. The victims of Nazi spoliations were mainly white Europeans. The victims of British Punitive expeditions were mainly black, Africans. Herein lies the major difference that must be evident to all.
The British have had enough time since the petition The Call for the Return of the Asante Regalia 1974, and could have worked at a new legislation, Asante Regalia (Restitution of Cultural Artefacts) or Restitution of African Cultural Artefacts Act. Why have they not done that and are still not preparing to do that but are only busy with explanations that could justify further keeping of the artefacts looted in 1874? As the saying goes, it takes two to tango. Have the Ghanaians/Africans been as determined as the British? When shall we say enough is enough?
Despite concrete restitutions by Horniman Museum, Jesus College, Cambridge, and Aberdeen University, we hear constantly from British Ministers and the British Museum that there is no such intention to reform the law or change the basic policy. Whatever may be the position of British law, this is a matter for the British alone. Africans can have no influence on the matter and really should not be concerned. We just want our treasures back. (11)
It should be made clear that Asante/Ghana reject the underlying basic racism that authorises European peoples to capture artefacts of the African peoples on assumptions of arrogant and supercilious beliefs that these artefacts are better protected in 'universal museums' such as the British Museum. We have even heard people refer to climatic differences!
Our century should demonstrate that we have moved away from the dark ages of colonialism and imperialism. But can this new age be established when British and other European officials still present the arguments of the past as justifications for holding onto looted African artefacts?
We cannot relieve the British of their moral and legal obligations to return the stolen artefacts through a no costs scheme. They should normally be thinking about reparation for their wanton destruction of property in Asante, the thousands of human lives they took away, the natural resources they carted away and the labour for which they paid little or nothing.
Loans of Asante gold treasures are incompatible with the character of the proud Asante people, who bravely resisted British hegemonic invasions.
The Asante have never borrowed the artefacts of other nations. How could we explain to our children when the Asantehene or other Asante nobles proudly show off borrowed artefacts during our famous durbars? Can we tell our children we are using borrowed artefacts from the British? How can we instil in our children respect and love for African culture when we operate with borrowed artefacts from our former colonial masters? The average Asante would ask whether we could not produce our artefacts.
Asante/Ghana has suffered enough from the British and should reject the latest offer of humiliation and further dependency. We are not begging the British to give us British artefacts. We are asking them to return our Asante artefacts they looted in several aggressive incursions into our country in their attempts to control our land, people, and resources.
If the British Museum wants to contribute meaningfully to the 150th anniversary of the end of the Third Anglo-Asante War, the best and the decent thing to do would be to return unconditionally to the Asante owners in Manhyia, Kumase, a respectable number of the Asante treasures the venerable museum has been illegally detaining since 1874, mostly away from the public gaze.
We can only repeat the reasons given for The Call for the Return of the Asante Regalia in 1974: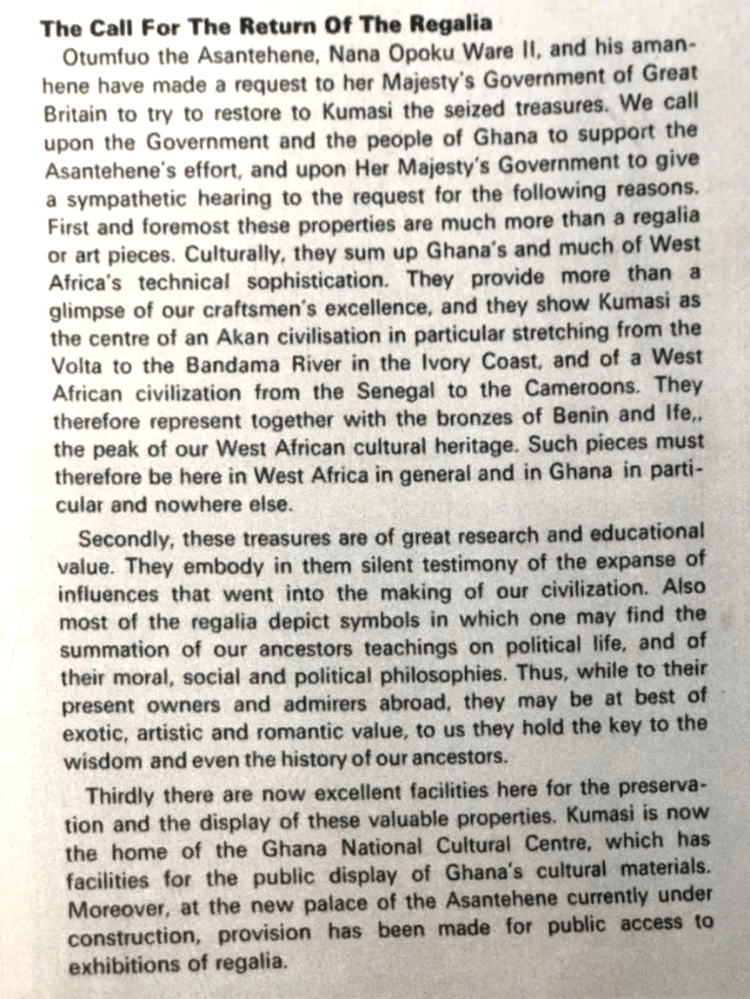 ---
NOTES
1. Richard Chamberlin, Loot: The Heritage of Plunder, 1983, Thames and Hudson, London, p. 79.
2. https://www.bbc.com/news/entertainment-arts-65614490
3. K. Opoku, When will Britain Return Looted Ghanaian Artefacts? A History of British Looting of more than 100 Objects https://www.africavenir.org/nc/news-details/article/kwame-opoku-when-will-britain-return-looted-ghanaian-artefacts-a-history-of-british-looting-of mor.html
Reclaiming Looted Asante Gold (Ghana): Triumph Of Morality Over Brutality?
https://www.modernghana.com/news/1206933/reclaiming-looted-asante-gold-ghana-triumph.html
Will The New Guidelines Of The Arts Council England Help Restitution Of Looted Asante Gold And Benin Bronzes?
https://www.modernghana.com/news/1183469/will-the-new-guidelines-of-the-arts-council-englan.html
Looted Asante (Ghana) Gold In Wallace Collection, London: Return Stolen Items To Manhyia Palace, Kumasi. https://www.modernghana.com/news/871280/looted-asante-ghana-gold-in-wallace-collection-london-re.html
Have Ethical Considerations Returned To Restitution For Good? Smithsonian Adopts A Policy On Ethical Returns of Looted Artefacts
4. Albert van Dantzig, Forts and Castles of Ghana, Sedco Publishing Limited, 1980, Accra,
5. Henry Brackenbury and Harry , The Ashanti War V2: A Narrative Prepared From The Official Documents By Permission of Major-General Sir Garnet Wolseley 91874, p. 241
6. Stanley H. M. 1874. Coomassie and Magdala: The Story of Two British Campaigns in Africa, p. 242, New York, Harper, Rediscovery Books, 2006.
7. Geoffrey Robertson, Who owns history? Elgin's Loot and the Case for Returning Plundered Treasure, Biteback Publishing, London, 2019,p. 213
8. https://www.modernghana.com/news/1223245/new-study-advises-british-government-and-british.html
9. G. Robertson, Who Owns History? See pp. 11,21,167-216.
10. Le Monde, In France, restitution of African artifacts is subject to conditions https://www.lemonde.fr/en/culture/article/2023/05/05/in-france-restitution-of-african-artifacts-is-subject-to-conditions_6025556_30.html
K. Opoku, Does The Martinez Report Constitute A Pre-Announced Burial Of African Cultural Artefacts In French Museums? https://www.modernghana.com/news/1230672/does-the-martinez-report-constitute-a-pre-announce.html Berlin Decision On Benin Restitution: Germany On The Way To Restitution Of Looted African Artefacts https://www.modernghana.com/news/1079313/berlin-decision-on-benin-restitution-germany-on.html See letter of Dutch Secretary of State for Education, Culture and Science, Gunay Uslu, dated 15 July 2022 on Implementation based on the Colonial Collections and the Recognition of Injustice Advice of the Council for Culture - Gonçalves-Ho Kang You Commission.
11. We have written often on the reluctance of the British Museum and the British Government to make the necessary changes in order to effect restitution.
How Long Will The British Government And The British Museum Resist Calls For Changes In Restitution Policy? https://www.modernghana.com/news/1135499/how-long-will-the-british-government-and-the-briti.html
---
IMAGES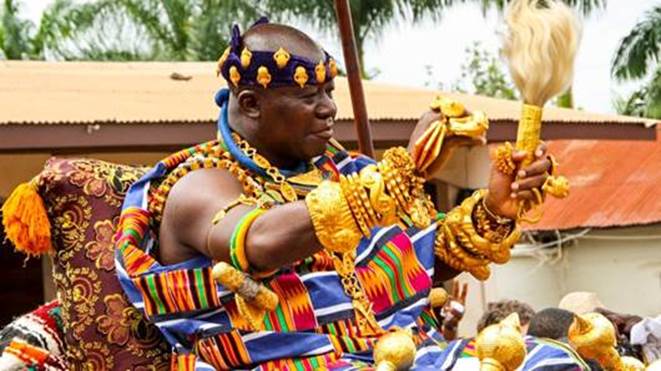 Asantehene Otumfuo Nana Osei Tutu II. Will he soon recover the golden Asante artefacts stolen by the British in 1874 ,1896, and 1900 from Kumase that are now in the British Museum, Victoria and Albert Museum, and Wallace Collection, all in London, United Kingdom? Osei Tutu's predecessor, the late Asantehene Otumfuo Nana Opoku Ware II, with the support of the Ghana Government, made a request in 1974 for the restitution of the looted Asante Regalia that Osei Tutu has repeated several times.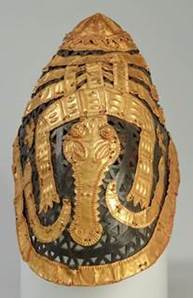 Krobonkye royal leather cap, Asante, Kumase, Ghana, captured by British troops in 1874 in the invasion of Kumase, now in the Royal Collection, London, United Kingdom.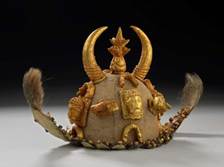 Asante ceremonial gold head dress or ceremonial hat, Asante, Kumase, Ghana, now in the British Museum, London, United Kingdom.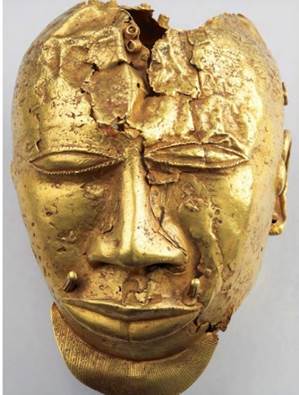 Gold mask,20cm in height, weighing 1.36 kg of pure gold seized by British troops in invasion of Kumase in 1874, now in the Wallace Collection, London, United Kingdom. Wallace Collection states that this is the most important and famous work of Asante art .Yet they are not worried that this is not available to Asante and Ghanaian artists, and Ghanaians. How would European art have developed if the famous and important European art works were in Africa?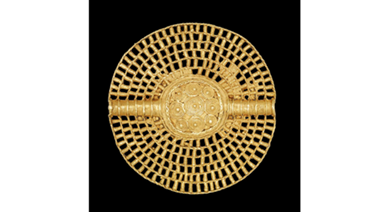 Gold disc pendant, soul disc, Asante, Kumase, Ghana, now in the British Museum, London, United Kingdom.
Pectoral disc, Asante, Kumase, Ghana, now in Victoria and Albert Museum, London, United Kingdom.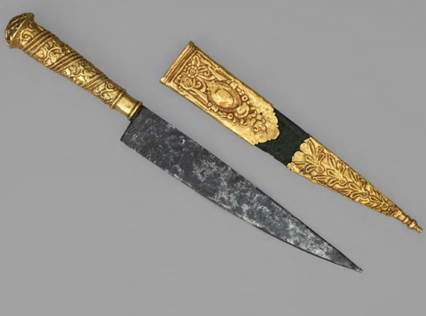 Knife with scabbard, Asante, Kumase, Ghana, now in Wallace Museum, London, United Kingdom.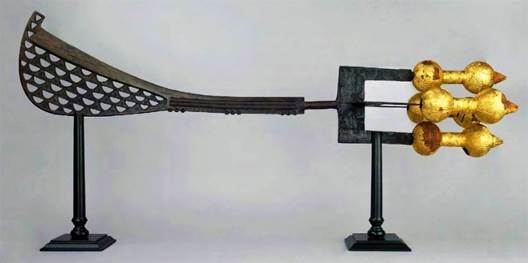 Curved swords with gold-covered hilts and pommels, Asante, Kumase, Ghana, now in Wallace Collection, London, United Kingdom.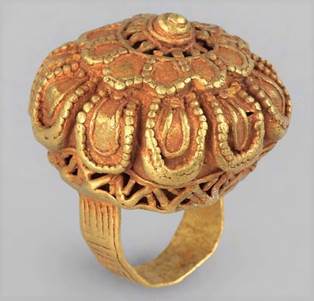 Finger ring, Asante, Kumase, Ghana, now in Wallace Collection, London, United Kingdom.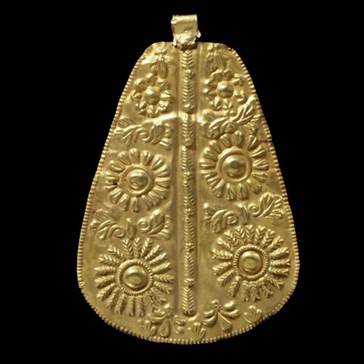 Pear-shaped gold pendant, Asante, Kumase, Ghana, now in Victoria and Albert Museum, London, United Kingdom.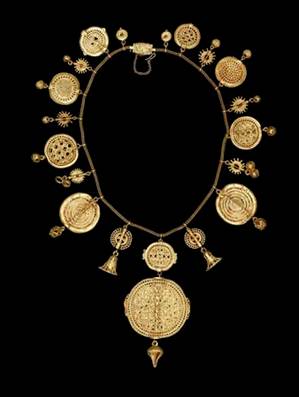 Gold necklace, Asante, Ghana, now in the British Museum, London, United Kingdom.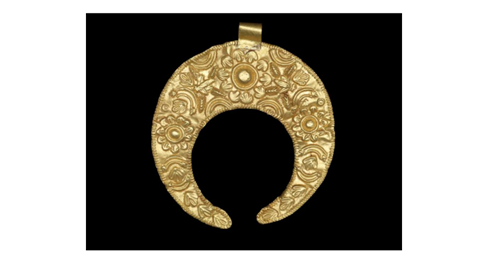 Crescent shaped pendant pendant-akrakonmu-Asante, Kumase, Ghana, now in the British Museum, London, United Kingdom.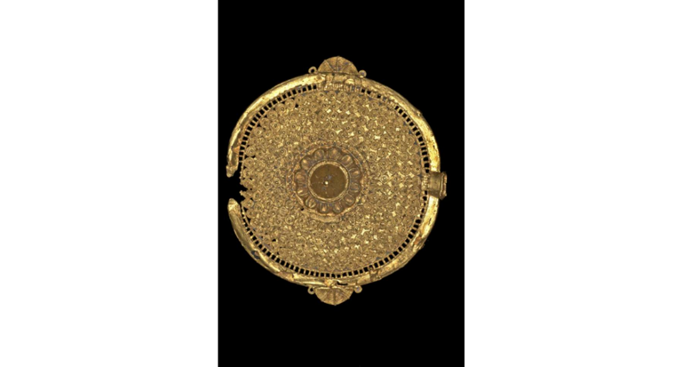 Soul disc, Asante Kumase, Ghana, now in the British Museum. London, United Kingdom.