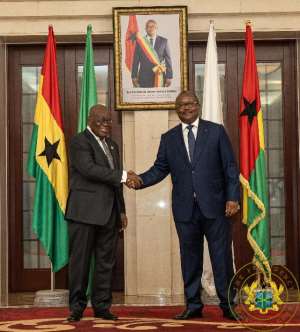 President Nana Akufo-Addo on Monday, 15th May 2023, held bilateral discussions with the President of the Republic of Guinea-Bissau, Umaro Sissoco Embaló, as part of his three-day State Visit to Guinea Bissau.
The purpose of the visit is to strengthen the ties of friendship and co-operation between Ghana and Guinea-Bissau.
The two leaders as part of discussions explored, in detail, areas of possible co-operation between Ghana and Guinea-Bissau for the mutual benefit of both countries.
Nana Akufo-Addo disclosed that the discussions, in the areas of education, trade and industry, agriculture, fisheries and aquaculture, environment, science and technology, petroleum and hydrocarbon activities, and tourism, were held in an atmosphere of fruitful cordiality.
As a result, both countries have signed an agreement establishing a Joint Commission for Co-operation, which will serve as the legal framework for addressing the trade and investment ambitions of the two countries.
President Embaló also conferred the highest accolade of the State of Guinea-Bissau, the Amilcar Cabral Medal, named after the great African freedom fighter on President Akufo-Addo.
For his part, Mr Akufo-Addo said "It is an award I will cherish for the rest of my life."