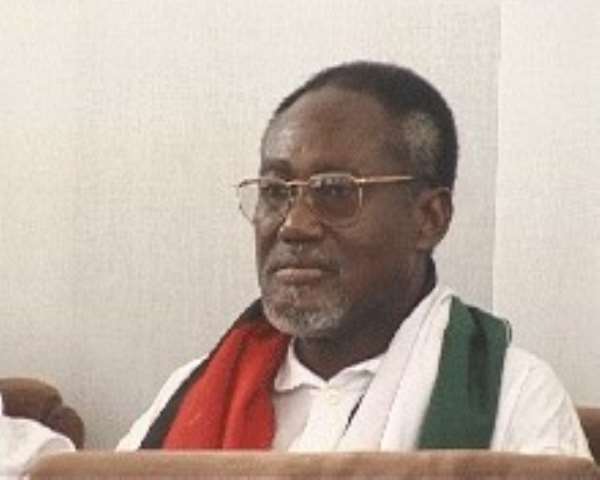 …Overthrow its interim chairman
Some interim executive members of the Democratic Freedom Party (DFP) in the Brong Ahafo Region, led by its regional coordinator, Mr. Peter Amoh, have staged their first 'palace coup' and tossed out their interim regional chairman, Mr. Kwadwo Afari Yeboah.
The reason for this, The Chronicle learnt, was that he did not measure up to their criteria because Mr. Yeboah, a preparatory school director, is "an outsider to the DFP cause".
DFP is made up mainly of disgruntled and disaffected members of the main opposition party, the National Democratic Congress (NDC), who either lost elections or were threatened by the 'overbearing Rawlings' men'.
The Chronicle investigations revealed that the regional coordinator with the consent of some party executives decided to remove Mr. Yeboah so that he (Mr. Amoh) could elevate himself to the position of interim chairman in the region.
Mr. Amoh, himself a 'black leg' in the NDC, was fired from the National Democratic Congress because he was caught flirting with Dr. Obed Asmaoah's DFP, and he has decided to take up the chairmanship position to prevent any 'dissident' from joining them and frustrating their agenda of spoiling it for the NDC.
It was established that DFP executives were not ready to admit any person into the party, unless that person was defecting from the NDC, and that may be the reason for the reports that Mr. Mike Eghan and other CPP stalwarts had faded out since they joined the DFP.
Mr. Yeboah, the toppled chairman, according to our investigation does not believe in the policy of exclusion. On reaching him, Mr. Yeboah confirmed to The Chronicle that his position was taken away from him, but he declined to explain further why he was overthrown without notice. He only told The Chronicle that the DFP executives were having an executives' meeting on "Tuesday" (without specifying the date), but that he had had to attend a relative's funeral at Drobo on that same day.
On his return, he said he had information from some of the executives that he had been axed and his position taken away by Mr. Amoh.
Our investigation revealed that it was only Mr. Yeboah who was thrown out, while the other executives maintained their positions. When The Chronicle contacted Mr. Amoah, he initially declined to comment on the issue, saying, "I will not say anything till I return from our maiden congress in Accra".
However moments later, Mr. Amoh, a former Sunyani West constituency chairman of NDC, revealed that the interim chairmanship had not been given to Mr. Yeboah, but a founding member from Jaman South. The DFP last Saturday launched their party, bussing hundreds of people across the country, who started arriving from Friday.
The launch had been preceded with television commercials promoting the party, which has received its certificate from the national Electoral Commission.