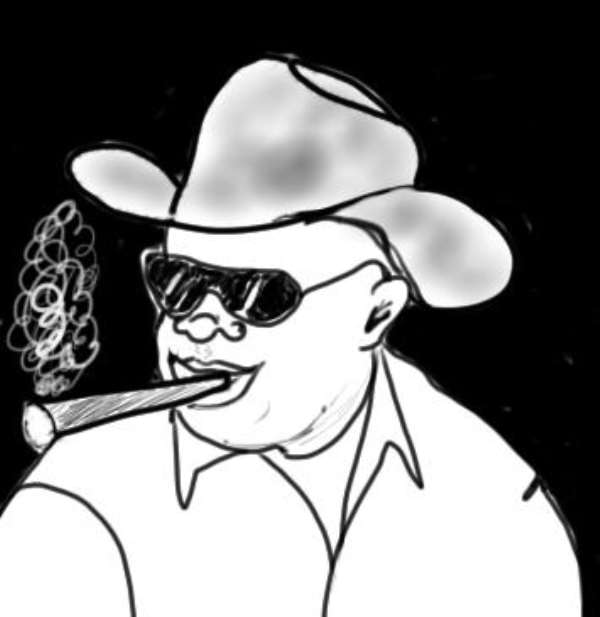 Kofi "Chuck" Wayo, Ghana's irascible political whiner has issued yet another jeremiad. Using his radio program on Vibefm as a launching pad, the impertinent saber-rattler reportedly laced into the NPP and ominously warned of a civil strife if the party were to use its parliamentarian majority to facilitate the passage of the Representation of the People's (Amendment) Bill into law.
If there ever was an overstatement--- bovine ruckus --- this is it. Since his splashy foray into Ghanaian politics, Wayo has relentlessly projected himself as the sole wielder of the magic wand for Ghana's problems besides demonstrating an unabashed penchant for blather. Wayo's doomsday scenario, reckless and irresponsible as it seems, was nothing more than the bombast of a sullen politician.
The Representation of the People's (Amendment) Bill ... a historical precedent if it is passed ... is a window of opportunity for Ghanaians living abroad to be part of the political process at home. But left to their own devices, Wayo and his ilk would close this window without batting an eye.
It is not hard to understand why Wayo and others vehemently oppose this bill. Bereft of ideas that will move the country forward and sensing an imminent whacking by the NPP at the polls in 2008, they have decided to throw roadblocks....anything to stop the NPP from continuing its good policies of reviving the economic and creating opportunities for Ghanaians.
The arguments opponents of the bill have forwarded so far, like Swiss cheese, are perforated. After all, Ghanaians abroad did not just "abandon" their country because they wanted to. Harsh economic realities ... dearth of educational opportunities and jobs ...necessitated the mass migration overseas. Hey, Wayo himself was for decades an "exile" in humid Texas where he reportedly hit pay dirt.
And how can one forget the immense contributions... cash remittances, creation of businesses, construction of homes, restaurants and hotels ... Ghanaians living and working overseas continue to make to ease the economic hardships at home?
Against this background, Ghanaians in Western and Eastern Europe, North America, Australia and Asia, irrespective of their political leanings, have as much right as their contemporaries at home, to elect their political representatives and to hold them accountable. Their absence should not preclude them from the voting booth.
Yet, despite its noble intentions, those opposed to the Representation of the People's ( Amendment) Bill, see it as a blatant power grab by the NPP. Citing recent electoral defeats suffered by the party as evidence of a swirling disenchantment with the party, opponents have accused the NPP of refocusing attention on the bill as a way of clinging to power in 2008. Ridiculous. There is no evidence --- empirical or anecdotal --- that points to an overwhelmingly support for the NPP among Ghanaians abroad.
Much like the NPP, the NDC and the motley collection of other political parties, too, have their sympathizers around the world. To stem the NPP's supposedly "overseas advantage," its rivals should do a better job of energizing their supporters.
Wayo is an astute politician, I grudgingly grant him that; coming out against the Representation of the People's (Amendment) Bill was clearly smart political maneuvering on his part, but it was also a whorish stunt.
For one thing, he has ingratiated himself with opponents of the President who have voiced similar sentiments about the proposed bill. But above anything else, Wayo appeared to the ordinary Ghanaian as heartbreakingly concerned about his .. the ordinary Ghanaian's ... tough economic conditions.
You would think that in the face of mounting criticisms of President Kufuor, his handlers would jettison the old method of defending him...summoning reporters to a press conference and casting all his critics as villains... and devise a pragmatic and coherent strategy of combating his critics.
The bald hubris of Kufuor's opponents in recent times --calling him all kinds of names under the sun--- is due in large part to his handlers' inability to coordinate and articulate a single message. More often than not, the message is muddled, obfuscated and cloaked in language that Ghanaians find difficult to understand.
Message to Kwabena Agyepong the president's press secretary: set up a rapid response team and charge it with hitting back hard at those who throw barbs at the President. No physical intimidation of opponents. Instead, confront them with facts, coherence and civility. You cannot take on the critics all by yourself. Seek assistance from those well versed in public relations "wars."
Wayo's grandstanding is astounding; his warning of a civil war would not resonate with Ghanaians who have no stomach for anarchy and chaos, the consequences of any civil strife. They don't share Wayo's ominous views. There are no victors and vanquished in a civil war. The victims are almost always ordinary citizens who get killed, displaced and denationalized.
Well-meaning Ghanaians should, without much prodding, repudiate Wayo's statement and condemn it for what it is ... a simple minded demagogy. Views expressed by the author(s) do not necessarily reflect those of GhanaHomePage.