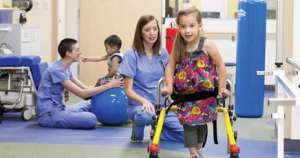 Akua (Not her real name) completed the University of Ghana with a degree in social work, she had always said that as for her she didn't want to stay home after school to add to the unemployment statistics.
After her National Service, she heard of an avenue by the Special Mothers Project, an advocacy and support group for families raising children with cerebral palsy and other disabilities.
The Special Mothers' project had started a programme called the "Home Care programme" where they employed graduates including nursing graduates to work and care for children with disabilities at the comfort of their homes.
Akua signed up for the programme, after the initial training, she was assigned to work with a family. Apart from her salary, the family provided lunch which was optional and paid her social security.
She worked with the family for three months and got a better opportunity elsewhere, when she was exiting from the home care programme, she introduced her friend, another graduate who is unemployed.
Her friend took up the offer and run with it.
Covid-19 came with a lot of job losses but health care professionals were not among the casualties of job losses.
Apart from working in the hospitals, care professionals in other countries were needed for rehabilitative care in homes and other facilities.
The Care Work
Care work is among the thriving industries in the world where employment is guaranteed. There will always be people who need to be cared for in one way or the other.
The aged community in Ghana keeps growing and we are at a point where people are actually looking for aged homes and aged facilities to care for their ageing parents, a phenomenon, an average Ghanaian would have scorned 15 to 20 years ago.
Children with medically complex conditions and special needs are another group of growing population that we need to pay attention to in Ghana.
With very limited rehabilitative care facilities, there is a growing concern especially among the special needs parenting community for facilities that at least cater for their children during the day time and help them to get respite from caregiving or at least to go and work and earn an income for themselves.
Unfortunately, many in Ghana do not consider care work as work.
Elsewhere Care work is serious work and a thriving industry and people are licensed to engage in care work.
There are different types of Care work and they type of care work one does determines where one could be working. There are those engage in supporting independence living, assisted living, nursing home care and personal care.
Caregiving does goes beyond just working in the hospital, in fact the crux of caregiving occurs in the homes.
That is why the demonstration of a group called the Coalition of unemployed nurses should prompt us as a country to have a conversation around care work.
According to some of the nurses, they have been waiting for about two years or more to be posted to the various government health facilities.
Some of them think that the government is using a back door approach to employ some of their colleagues, the picture they painted seemed to me that if you did not know anyone in Government then you will not be posted.
Samuel Mbura, the leader of the group urged the Ministry to be up and doing in their posting because they are "hungry."
"Now we are begging for money from our grandmothers. Nurses don't grow beard, but look at my beard, so how can a grown man like me be feeding from my mother, my grandmother.
While empathizing with the unemployed nurses, I think there should be fora to address the question, what is a job.
The Special Mothers Project Home Care programme trains and assign graduates and educated persons who have a passion to go into caregiving to families with special needs children.
These graduates are paid a decent income by the family they work for and the programme serves as a platform to give people an opportunity to learn and become advocates especially for children with special needs and their families.
Mrs Hannah Awadzi, Executive Director of the Special Mothers Project, says,
"I struggle to get people willing to take caregiving as a decent career, the families do well to pay these persons a decent wage."
The Special Mothers Project usually issues an appointment letter, stating the details of the contract, just like it is done in any organization.
Mrs Awadzi said the programme also serve as respite for families of children with special needs to give especially mothers a break away from caregiving.
Rehabilitative Care
Rehabilitation is care that can help you get back, keep, or improve abilities that you need for daily life. These abilities may be physical, mental, and/or cognitive (thinking and learning) which may have lost because of a disease or injury, or as a side effect from a medical treatment.
Rehabilitative care is thus any type of medical, therapeutic, or mental and behavioral health care that helps an individual maintain, regain, or improve function and skills.
Rehabilitative care is not common in Ghana, however, there are a lot of families raising children with medically complex conditions who need support in that area.
Many families may not be able to afford a professional allied health worker but programmes like the Special Mothers Home Care programme will afford the average person with a passion to support a child with special needs or medically complex children the opportunity to offer support in exchange for money.
Mrs Awadzi says it is time to train a lot of para professionals to support the growing needs of caregivers for families raising children with cerebral palsy and other disabilities.
It will also be helping Ghana to solve some of our unemployment challenges.
The Special Mothers Project is recieving applications from persons interested in pursuing caregiving as a career, interest persons may send an email to [email protected]