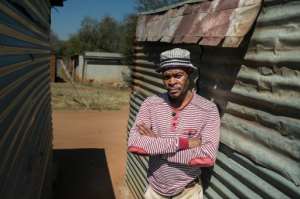 Mohlaudi Mohlaudi stands outside his house in Marikana, where in 2012 police opened fire on striking platinum workers, killing 34 miners and wounding dozens more. By Mujahid Safodien (AFP)
Marikana (South Africa) (AFP) - Mohlaudi Mohlaudi's salary may have more than doubled in the four years since 34 of his fellow miners were killed by South African police during a strike in Marikana, but he still lives in squalor.
A small room measuring roughly nine square metres (100 square foot) built with thin corrugated metal sheets is home for most of the year for one of the survivors of the Marikana massacre which took place on August 16, 2012.
On that day, workers at the Lonmin-owned Marikana mine northwest of Johannesburg were observing a wildcat strike to demand the minimum wage. In a bid to break the strike, police opened fire, killing 34 miners and wounded dozens more.
It was the worst police violence in South Africa since the end of apartheid 21 years ago.
Mohlaudi's room doubles up as both a bedroom and a kitchen. He has no toilet, no running water and no electricity.
The salary is now "better, but we don't have electricity, toilets, housing," the 35-year-old rock drill operator told AFP.
"Nothing really has changed," says community activist Chris Molebatse.
"When it comes to living conditions, they are really as appalling... the shacks are mushrooming because the company hasn't done anything."
Opposition lawmaker and Marikana resident Primrose Sonti believes that social conditions for the workers are "worse than ever", even worse than before the massacre when some residents had water.
"Now, most of the people have no water," the lawmaker for the radical Economic Freedom Fighters (EFF) told AFP.
"I don't want to talk about houses... it's only shacks."
- 'Truly appalling conditions' -
In a report released Monday, Amnesty International slammed Lonmin, the world's third largest platinum producer, for failing to build enough decent houses for its workers.
The global rights watchdog said Lonmin had failed to address the "truly appalling living conditions" for its workers in Marikana since the strike four years ago.
Earlier this month, Lonmin sent a letter to Amnesty saying it had budgeted 100 million rands ($7.5 million/6.7 million euros) a year to build houses for some 13,500 of its workers in need of formal accommodation.
In a statement released ahead of the four-year anniversary of the bloodshed, Lonmin said it had "made inroads in building relationships and restoring trust (with the workers), but there is still much to do and many legacy issues to address."
On top of the deplorable living and social conditions, Mohlaudi also worries about job security.
He sits outside his shack, sharing a bottle of beer with a neighbour who lost his job early this year.
Zebedias Xerinda, a 53-year-old migrant worker from Mozambique and father of five, was laid off in January, but is back in Marikana hoping to be re-hired.
"Life is very difficult now. I'm just sitting, looking around for a job," said Xerinda, who believes that mining companies are laying off workers "as a result of the strike" and not due to the need to cut costs.
- 'Still struggling' -
Hit by plummeting commodity prices and South Africa's stagnating economy, mining companies are struggling, with unions warning in June that more 57,000 jobs in the sector could be at risk.
Four years ago, the Marikana miners launched their strike to demand the minimum wage of 12,500 rand ($940).
And today, that demand has yet to be fully realised.
"As we speak today, we are still struggling, we are still fighting for the same demand of 12,500," Siphamandla Makhanya, one of the leaders of the 2012 strike, told AFP.
Over the years, inflation and a depreciated rand have eaten into pay rises.
"Even this 12,500 that we are demanding -- it's not enough because everything is going up. That 12,500 was okay in 2012," said Makhanya.
While the workers' wages have increased substantially in rand terms, "the value of the rand has declined tremendously," said David Van Wyk, a senior researcher with the Bench Marks Foundation.
At the time of the strike, eight rand bought one dollar but now the rate is 13 to the dollar.
"Workers are basically back, in real monetary terms, where they were (four years ago) in terms of what their money can purchase," said Van Wyk.
The possibility of fresh wage demands are looming and new strikes cannot be ruled out.
"Another strike may lead to job losses. The companies may decide to retrench more workers as a result of the demands," said Xerinda.