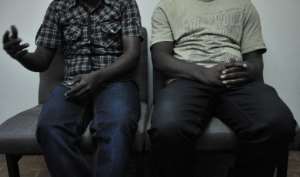 With much resilience and a firm grip to "morality" and "culture", Ghana appears to be unperturbed by the global move to decriminalize consensual adult same-sex relations and the whirlwind of the integration of same-sex marriages.
Despite the public pronouncement by national leaders about their likes for homosexual, but their dislike towards homosexuality, some academics crowned and gowned in human rights still believe the country has gone mad for not accepting people for their sexual orientation.
Recently, the Director of Communications in the Office of the President, in response to rumours that same-sex marriage had been approved by Ghana's President, stated categorically in his public communique: "It will NOT be under his Presidency that same-sex marriage will be legalised in Ghana".
The current Speaker of Ghana's Parliament, Rtd. Hon. Abban Bagbin has also emphatically declared that homosexuality has no place in the Ghanaian society and cautioned that he would rather resign than preside over any debate on the floor of Parliament concerning same-sex matters. He further stated that he will lead the parliament to approve the bill that criminalize homosexuality.
These statements are consistent with those made by previous political leaders in Ghana.
However, the academics believe that these kind of statements is the premise that state-sponsored homophobia thrives in Ghana and violence against homosexuals is ubiquitously engrained in Ghanaian society.
Any well meaning Ghanaian must be worried and should lose any sympathy held for Ghana because of the few academics and these few 'great' lawyers. As a citizen of a "third world" country a bit behind on the uptake, it is sad seeing our academics use their totally not recycled arguments supporting lgbtq+ and laws which decriminalize homosexuality in real time, live on national TV. A right that comes with body pain and bottom manhole dripping liquid human excreta in a difficult -to -control manner.
We have laws that criminalize others for abusing their body with drugs consensually, We have laws that criminalize others for taking their own life consensually, how comes none of the advocates for LGBTQ+ fight for that right,? perhaps these advocates in supports of homosexuals must pick up their books and read again. Human right is not a license for individuals or a group to treat their body as so wishes. Human right is the protection of the natural order of our body and brain. What is human? Human is related to our body and brain. homosexuality is an abuse of human rights!