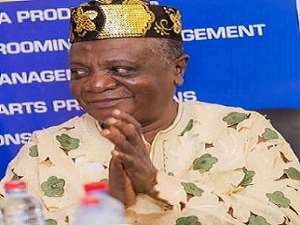 It is a twice-told story, this story that I am about to tell for the third and final time, and a story that was bound to be told and expected to be told for the third and final time around and brought full circle to its most logical and epochal end and conclusion. But, of course, I had not expected to be telling this story about the seismic and epochal passing of Classical Highlife musician, hero, icon and legend Nana Paa Steele Kwame Ampadu, I (1945-2021) so soon and suddenly. For me, personally, though, what was and has been most revelatory or epiphanic about the greatest Highlife Storyteller in postcolonial Ghanaian history came to light roughly some two years ago, when the genius singer-guitarist that most of us, his avid devotees, have always supposed to be of bona fide Okwawu (or Kwahu) provenance, nativity and upbringing revealed to the journalist of Kofi-TV fame, that is, Mr. Kofi Adoma Nwanwani (or Wonder Boy Kofi Adoma), that he, Adwomtofohene (King of Highlife Music) Nana PSK Ampadu or Nana Kwame Ampadu, I, was actually an "Akyemkwaa," that is, a thoroughbred and bona fide citizen of the Sovereign Democratic Republic of Ghana who had, significantly, been born to an Akyem-Kukurantumi mother and an Asante father. But, of course, in our part of the world, as it is with most Semitic people around the globe, it is one's maternity that most matters, almost exclusively.
This seismic epiphany or revelation put everything into context and logical perspective for me. You see, I have always been of the unwavering belief that there was absolutely no way that Ghana could have produced Three Giant Musical Legends, actually Heroes, of Highlife, the most globally recognized artistic and cultural marker of Ghanaian identity and nationality, that is, aside from our trademark Kente Cloth, and not have at least one of them recognized as a bona fide or full-blooded Birem Source-Drinking Akyemkwaa. So, in a very remarkable sense, Mr. Kofi Adoma equally distinguished himself professionally with the aforesaid landmark or historic interview in which he almost inimitably and deftly drew the ethnic and/or subethnic identity and natal provenance of the Great One from the proverbial horse's own mouth. You see, being of Akyem-Kukurantumi origin also means that Nana "Highlifegyefo" (as in Osagyefo) Kwame Ampadu is/was, at least as of this writing, a bona fide scion or descendant of the Vanguard Division of Okyeman, properly speaking, the Ancient or Medieval Kingdom of Akyem-Abuakwa.
There have, of course, been quite a remarkable number of Highlife Giants and Legends from Akyem-Mansa, at least partially, in the case of the globally renowned and Legendary Highlife Doctor from Asante-Ankaase, to wit, Nana "Kwame" Gyasi and his equally globally renowned Noble Kings Dance Band. We also know that Dr. K. Gyasi's father had been a native of Akyem-'Daa or Akyem-Oda(a), that is, the Kotoku Division of The Three Akyems or Akyem-Mansa, with Akyem-Bosome literally bringing up the rear. But, of course, I was also thinking about the other equally significant but scarcely as well-known as his more globally renowned mentee, that is, the Pioneer Okyeman Highlife and Concert Party Maestro and relative of this author from Akyem-Apedwa by the name of Opanyin Appiah-Agyekum, the very first Ghanaian Highlife Artist to have had his music broadcast on any Ghanaian radio station. This must have been in the late 1950s or thereabouts. Well, recently, I chanced across a brief newspaper article which noted that the legendary Dr. K. Gyasi had actually been tutored by Opanyin Appiah-Agyekum for at least some two years, in Ghana's capital city of Accra, prior to Dr. Gyasi's landmark decision to form his own band in 1952. Which readily tells me that to amount to something great and big in Highlife Music, a prospective legend can scarcely escape the mythical nourishing touch of Biremuatifi, that is, the rare privilege of drinking from the very source of the Birem River. You see, the sun was not said to rise from the east for absolutely no good reason.
Now, who said Okyeman does not have its own fair share of "Cultural Firsts" or Artistic Pioneers? Needless to say, I was pleasantly both surprised and obstreperously delighted to hear the mythical actor-comedian Super OD also mention in a videoclip interview that I recently chanced across, that he had actually been mentored by Akyem-Apedwa's own Opanyin Appiah-Agyekum in a concert party band that at the time made its home at Akuapem-Aburi, during the late 1950s and the early 1960s or thereabouts. Which also immediately connected this writer to the globally acclaimed "Yaa Amponsaa" Highlife Signature Tune, a version of which had been made by Nana Kwame Ampadu, I, and which was actually named after Obaahemaa Nana Yaa Amponsaa, this writer's own grandaunt, also of Akyem-Apedwa provenance or nativity. Which also immediately brings to mind a little piece of patently mendacious and apocryphal musical literature that strenuously sought to place the historical origins of the composition of the song "Yaa Amponsaa" in Kumasi. I laughed so hard that I almost ripped the two corners of my mouth. Pretty much like the recent equally apocryphal attempt by one Prof. Baffuor Agyeman-Duah to criminally devalue the globally established stature and significance of the legendary and immortalized Osagyefo Nana Yaa Asntewaa, a sister of The Okyenhene from Adanse Akrofuom and Kokobiante.
*Visit my blog at: KwameOkoampaAhoofeJr
By Kwame Okoampa-Ahoofe, Jr., PhD
English Department, SUNY-Nassau
Garden City, New York
Sept. 30, 2021
E-mail: [email protected]