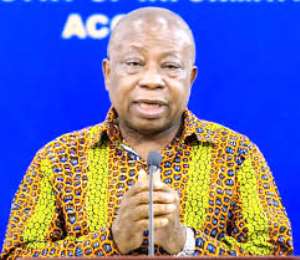 The quest to know more about how Ghana's Health Minister side-stepped a lot of procurement procedures in the Sputnik V vaccine deal is leading to the opening of a lot of worms in the can.
ModernGhana has found that it was indeed true when the under-fire Health Minister, Mr. Kweku Agyeman-Manu told the Parliament Ad-hoc Committee that no monies had been paid to the Arab Monarch Sheik Al Maktuom, the middleman for the supply of the 300,000 Sputnik V vaccine.
To the best of the Minister's knowledge, no amount had indeed been paid, 'shamefully', he got to know when the Parliamentary Ad-hoc Committee probing the matter proved to him that some payments had been made.
So the question is, who ordered or sanctioned the payment by the Finance Ministry without the Health Minister's knowledge or approval?
ModernGhana has stumbled on an information that points to someone close to the corridors of power that actually did the negotiation on behalf of Ghana and just made the Health Minister 'sit in for the cameras'.
In actual fact, that person whose name has been on several botched deals which has brought shame to the NPP government is said to be a business partner to the Dubai Sheikh.
Our source from the Ministry of Health says "Mr. Agyeman-Manu has only become a sheep being led to the slaughter house because of his loyalty to the President and the party." The source said the underfire minister doesn't want to remove the veil otherwise there will be fire.
"He can't say these things in the public, you know what all these info out there will cause to the President especially. But when I see what he's going through just to defend this s**t, I get sad for him", the source said.
This revelation somehow explains why Mr. Agyeman-Manu has not resigned till now and the President has also been somehow hesitant to dismiss him in spite of the loud call.
It would be recalled that in the early stages of this whole drama, some information circulated on social media that Mr. Agyeman-Manu had insisted he would not resign and dared anyone to dismiss him. This rumor was then treated as one of the social media lies being fanned by supposed political opponents to embarrass the government, but it is gradually turning out to be true.
So the question now is, will Mr. Agyeman-Manu lift the lid for Ghanaians to see what's inside the pan or he will be loyal to the grave like Boakye Agyarko?