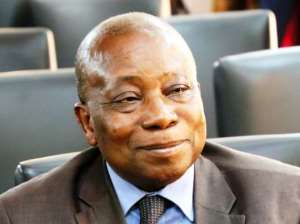 The Health Minister, Dr. Kwaku Agyeman-Manu
We all know that on July 19, 2021, the Health Minister, Dr. Kweku Ayeman-Manu, apologized to Ghanaians over the Russian-made vaccine Sputnik V, for COVID -19.
The Health Minister in his own words told Ghanaians, "Sputnik V saga: I erred by not seeking approval from Parliament; Cabinet."
The apology became necessary after the Ghanaian government and its Ministry of Health, despite the good relations between Ghana and Russian, the producers of the Sputnik vaccine, decides to purchase the vaccine through a middle-man in times of pandemic at a higher price.
Since then many Ghanaians have called for the resignation of the Health Minister, Kwaku Agyeman-Manu. There are many questions around this deal that those asking for the Health Minister's resignation need to ask themselves or the general public.
In Ghana, a country that has a President and a Vice-President, do Ghanaians think the Health Minister could have entered into such a deal without the knowledge of Nana Akufo Addo or Bawumia?
In most of my articles, I tried to be transparent on many issues but still, many fail to understand me. That's fine because we are different people, and each has his/her opinion.
I have written against Ghana's Health Minister many times but not this time. In fact, I have considered Dr. Agyeman-Manu to be one of Ghana's honest ministers, the fact that he apologized to Ghanaians, taking the blame on himself.
This is something many Ghanaian politicians have failed to do. Ghanaian politicians continue to make mistakes, involved in corruption scandals, yet nobody has taken responsibility for their actions, let alone to apologize.
Before anyone will request the resignation of the Health Minister, they must also request Charles Bissiw, Kwasi Anin-Yeboah, and Eugene Arhin, to do the same.