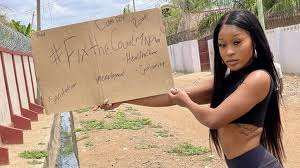 The popular online protest '#FixtheCountry hashtag has topped the news this past week. The campaign is being advanced by disgruntled Ghanaian youth who claim that leaders and government officials have failed them in developing the country.
The protest has gained massive support from all quarters of the political divide and has led to a demonstration on the streets of Accra.
The demonstration however has failed as the Ghana Police Service sought an injunction on the protest from the High Court citing COVID-19 and its danger to public order.
As a writer and a trained journalist I have keenly followed the campaign and my assertion is that Ghanaians are clueless and needs education when it comes to fixing a country. How do you fix a corrupt country like Ghana?
Now, let's split the above question first into keywords. 1. Country 2. Corruption 3. Fix and 4. How
Foremost, what forms a country? Is it the land that sits in between the geographical borders? Is it the government? Is it the culture of the land? Or is it us, the population residing on the land that forms the country?

If you care to know, a society is an extension of your self. In the same way a country is an extension of each society. And so the good found in each individual contributes greatly to the glory of a country and the bad in each individual fades the same.
What is corruption? Is corruption taking just bribe for completing a task using an unfair means? Does it not include the money I pay before given a passport? Will it not also include the money I pay to a school to avail an admission for my kid in senior high school? So who is corrupt, me, my country or my leaders?
How do we define the keyword fix? Fix is applied when we understand the impact the problem caused. When we also realize the risk if the problem is not solved early. Again, when the main cause of a problem is identified.
The last keyword, how! It will surprise you to know that those who criticize corruption in the public realm secretly admires the dividend it yields. To fix a corrupt country like Ghana there need to be few systems we have to put place.

We need a system where the general public do not entertain corruption or the corrupt and will also not entertain the dividends it brings even if it brings good to them. It is more of an attitudinal change. Let us not heap all blames on Akuff Addo's government. #Fix Your Attitude before you aimlessly shout fix the country.
https://youtu.be/TiMHJs2bi7c