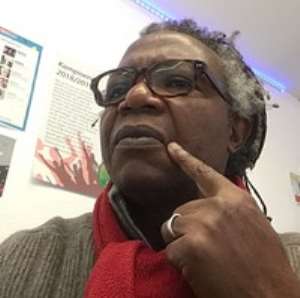 The shocking news that two teenage boys, 16 and 18 years old, lured a 10-year-old boy into an uncompleted building and killed him for money rituals sent Ghanaians reeling.
The incident happened at the Kasoa suburb of Lamptey Mills on Saturday, April 3, 2021.
The accused were said to be neighbours to the victim, and are frequent visitors to the victim's mother's house where they occasionally share meals.
The boys, who were said to have got the ideas of get-rich-quick-or-die-trying from one of the numerous get-instant money commercials that saturate television stations in Ghana, were said to have contacted one of the fetish priests who ply his trade on TV, for rituals to become instant billionaires. The priest was said to have demanded human parts and 5,000 cedis
The suspects, Felix Nyarko, 16, and Nicholas Kiki, 18, were apprehended and have been arranged before the Awutu Ofankor District Court which remanded two boys into police custody.
They have been charged with murder and conspiracy to commit murder. They are scheduled to reappear before the court on April 20, 2021 .
The police have also apprehended the spiritualist who turned out to be a priestess. She was said to be nursing a two months old baby.
Shocked Ghanaians took to the airwaves to voice their revulsions at the sad news. Many lamented that their country has become a place where the only worthwhile endeavor is to get rich by any means necessary.
Former President John Agyekum Kufuor was among the leading people who condemned the act. The former president attributed the gruesome murder of the 10-year-old boy to the fraudulent commercials that have become the staple of television stations in the country." He lamented: "How could young people do this? What do they know? Unfortunately, you media people are giving so much exposure to tricksters and fraudulent people, promising everything. When you look at them you should know that these are people who are themselves just bad and ignorant. That is not the way for our society to go."
The ex-president's sentiments were echoed by many shocked Ghanaians who find it difficult to come to terms that young children do not only harbour burning desires to become instant billionaires, but are now willing to kill for it.
For years, many Ghanaians have expressed concerns about the erosions of traditional ethos that used to guide citizens' conduct and helped to create harmonious and peaceful societies. The concerns were largely dismissed by those who considered themselves educated, modern and civilised. For them, the traditional ways that were informed and guided by age-long customs were primitive and are too archaic for modern living.
Alas, instead of copying the Chinese who refused to throw away their traditional ways of life in their quest for modernity, Ghanaians, like most Africans, continue to confuse modernity/civilization with westernization.
According to the agency charged with granting broadcasting licenses in the country, the National Communication Agency (NCA), 128 stations have been granted a license to operate tv stations, out of which 53 stations are currently operating in the country.
This might be seen as a good development for a country that until the late 1980s operated only one government-owned TV station.
But that will be missing the important point that most of the stations shamelessly broadcast materials that are not only indecent, unimaginative, and uneducative but sometimes downright criminal.
Many of the stations run only commercials produced by scammers in priestly garbs and they specialise in heavy commercialization of the Christian religion. They have staples like an instant cure for every ailment. Many of the garishly dressed Pentecostal pastors used their commercials to showcase instant miracles, with cripples, at the touch of the pastor's magic finger, throwing their clutches away and racing away in sprints that will lower Olympic records. Many pastors openly treat their church members in manners that should be considered violations of basic human rights.
Of late, some Mallams have launched their own commercials. They are mostly corpulent folks with flowing gowns complete with heavy turbans. Their main hustle is money doubling and other instant-wealth conjuring gimmicks.
Not to be outdone, so-called traditional spirituals have also chimed in. Dressed in animal skins, with feathers and whatnots, these charlatans also promote how-to-get-rich-without-breaking-a-sweat trickeries.
A visitor to Ghana who happens to switch between the TV channels will be left wondering if there are deliberate and conscious attempts to dumb the people down with vapid and mindless drivels.
Apart from a few quiz programmes here and there, almost everything shown on the TV stations in Ghana is hedonistic, narcissistic, and mind-bending materialistic commercials designed to dumbed people down and turn people into uncritical consuming junkies.
Ghana's attempt at creating a local film industry, dubbed Ghallywood, continues to disappoint. Producers churn out only pathetic productions with film editors doing their best to cover shoddy storylines, pitiful acting, and crazy camera angles with an oversaturation of video effects.
And for a country that once reigned supreme in West Africa with Highlife and Palongo kinds of music, today the country music industry is a pale shadow of its old self. The scene is dominated by studio-created beats with few musicians able to play a single musical instrument.
The result, predictably, has been the abasement of creativity and the promotion of mediocrity to the level of praxis. Unfortunately, no one appears to be bothered or concerned enough to attempt to stem the rot.
Why did people pretend to be shocked that children turned themselves into killing monsters when all that they watch on televisions are every manner of ritualists telling people how to get instant wealth through dubious means?
It is not only on the radios and the television stations that people peddle crazy money-making scams; all the country's highways are littered with posters and billboards filled with advertisements that should never be allowed in a sane society!
Many of the commercials the TV stations carry are clear vices that border on sheer criminality, yet the Ghana Police Service watch unconcerned as people, very brazenly, break the laws.
There is also a National Media Commission, which is supposed to regulate the media.
Per the NATIONAL MEDIA COMMISSION ACT, 1993, the National Media Commission (NMC) was established to "promote and ensure the freedom and independence of the media for mass communication and information per Chapter Twelve of the Constitution and to provide for related matters."
Section 2 of the Act states the functions of the Commission as:
1. (a) to promote and ensure the freedom and independence of the media for mass communication or information;
(b) to take all appropriate measures to ensure the establishment and maintenance of the highest journalistic standards in the mass media, including the investigation, mediation, and settlement of complaints made against or by the press or other mass media,
(c) to insulate the state-owned media from governmental control;
Section 2 (b) is simply laughable because there is no standard whatever in Ghanaian journalism – in both the print and the broadcast media.
The accusations that the teenagers were influenced by the proliferation of spiritualists on national television drew the ire of the Chairman of the National Media Commission (NMC), Mr. Boadu-Ayeboafo. Defending his commission against the widespread accusation of dereliction of duty, the NMC boss fumed: "To put it on a charge sheet that this is the reason why they did that, I think that this is a very lazy investigation."
Although the NMC's Chairman admitted the importance of the Commission's role in safeguarding content in the broadcasting space, he was adamant that: "the NMC will remain a paper tiger as long as the Broadcasting Bill remains unpassed."
The question Mr. Boadu-Ayeboafo failed to answer is why he and his 15 or so "paper tigers" in the NMC continue to receive allowances and other perks from the state whilst they nothing to regulate the abysmal content Ghanaians are forced to consume on their airwaves.
An African adage says that the way we laid our beds is exactly the way we will sleep on them.
Many religions affirmed that we shall reap exactly what we sow.
From whichever angle it is considered, the Kasoa ritual killing is a tragedy of epic, even staggering, proportions!
A classical example of societal FAILURE! At all levels!!!
Children should be in schools or at vocational centers to learn a trade, not plotting to kill and get money quickly.
Society is in serious trouble when eighteen years old children have nothing on their minds except instant, unearned wealth.
Rather than throwing up hands in lamentations, the question should be asked: What exactly was expected when licenses were granted to people to set up television stations with absolutely no clear guidance on content?
©️Fẹmi Akọmọlafẹ
Fẹmi Akọmọlafẹ is a writer and author