E/R: Hon. Osei Kwakye donates mowers to schools in Kwahu Bukruwa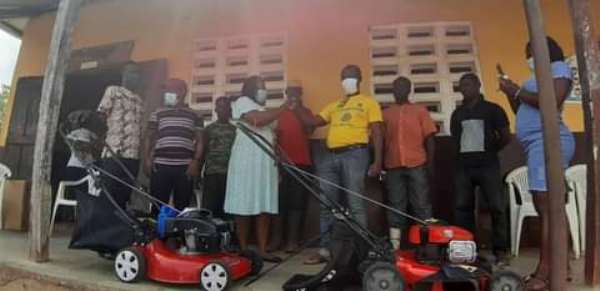 The Assembly Member for Kwahu Bukruwa in the Kwahu East District of the Eastern Region, Hon. Kwabena Osei-Kwakye has donated two lawnmowers, one to Bokuruwa D/A JHS and the other to the Presby Primary school.
The mowers are expected to lessen the burden on the school pupils who do the weeding of the overgrown compounds of the schools.
Speaking to Evans Boateng, Mr. Kwabena Osei-Kwakye, popularly called Hon. KOK stated that his donation to the schools was in response to an appeal the institutions made to him to enable the students to keep the compounds cleared of weeds to keep off dangerous reptiles out especially snakes.
He noted that the mowers have come to a large extent to relieve the pupils so that they would now have enough time to study not worrying about the task of weeding.
Hon. KOK stated that he remains committed to ensuring the promotion of quality education in his area, adding that he would do everything within his capacity to ensure his vision is achieved.
Hon. KOK expressed appreciation to his sponsors, who want to remain anonymous. He recounted the support he is enjoying from philanthropists who hail from Bokuruwa.
"I will effectively monitor the schools to ascertain if the mowers are being used for the intended purpose," he added.
The ambitious assembly member believes Education is one of the most important investments a community can make in its people and its future, hence the need to support it.
He, therefore, appealed to parents and guardians to channel their resources to the education of their wards as a motivation for quality education.
He also advised the pupils to take their education seriously and tasked them to desist from indulging in disrespectful acts and be disciplined in all their endeavours.
He finally charged both the pupils and school authorities to cultivate high maintenance culture in handling the items for the benefit of all.
He noted that, under his watch, he has undertaken more infrastructural and social development projects in education, health, agriculture, sanitation, water, and a host of others.
The authorities of the schools expressed gratitude to the Assembly Member for the kind gesture and promised to use them for the planned purpose.