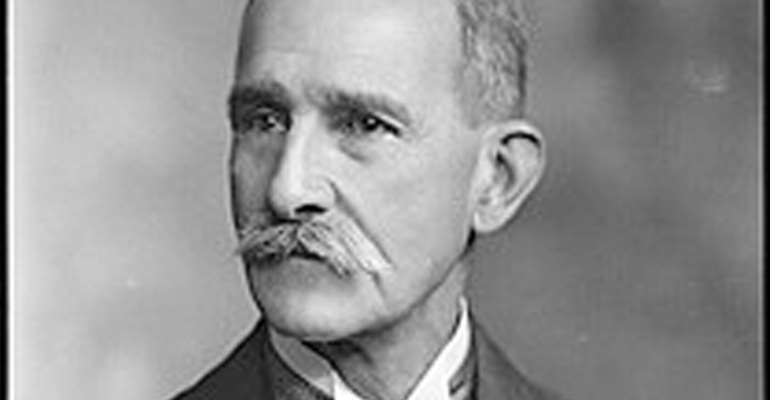 The period when the Gold Coast was ruled by the Governor in Lagos is hardly known by many Ghanaians.
It was a policy of the colonial administration to have the governor stationed in Lagos to administer the affairs of the Gold Coast.
The reason for the policy is unknown to me but I suppose it had to do with prudent economic management.
Be it as it may, the policy was dropped and separate governors administered the two important colonies.
Following the separation, the first Governor to take over the administration of the Gold Coast was Sir William Brandford Griffith whose appointment took place on 14th January, 1886.
He was succeeded by Sir William Edward Maxwell on 7th April, 1895. This governor unfortunately died at sea perhaps during a trip to England or on his return to the Gold Coast.
An acting governor in the person of Sir Frederic Mitchell Hodgson was appointed following the death of the governor at sea on 6th December, 1897. He was appointed substantive governor on 29th May, 1898.
It is important to note that in the early days of colonial administration, colonial officials who died were buried in the Gold Coast. The preservation of bodies and conveying them to England for burial was simply not available.
There were instances of some top colonial officials dying here in the Gold Coast.
Governor Herbert Taylor Ussher, who was appointed governor in June 1879, died in the Gold Coast. He was buried in London Market Cemetery, James Town, Accra.
I wonder whether the graves of these top colonial officials were marked. The London Market is not far from the General Post Office in Accra. It would be interesting to find out whether the said cemetery has not been overrun by structures.
Lovers of history like me would have loved to have such landmarks preserved for posterity.
Governor W.A.G. Young who was appointed on 29th April, 1884 but died later was buried next to Governor Ussher.
It would appear that the Ussher Prison was named after Governor Ussher.
Other governors who administered the Gold Coast after the separation from the Lagos colony were Maj Sir Mattew Nathan, a Royal Engineer officer who was appointed on 17th December, 1900 followed by Sir John Pickergill Rodger. He was appointed on 3rd March, 1904. He died on arrival in England.
On 21st November, 1910, James Jamieson Thorburn was appointed governor.
Sir Hugh C. Clifford took over on 26th December, 1912 after which came Brig Gen Sir F. Gordon Guggisberg, 1st September, 1919. Sir Alexander Ransford Slater succeeded Guggisberg on 31st May, 1927.
…Chief Justices Of The Gold Coast
Sir D.P. Chalmers was appointed the first Chief Justice of the Gold Coast on 2nd December, 1876, followed by P.A. Smith on 11th January, 1879 and J. Marshall, 28th February, 1880.
N.L. Bailey was appointed on 21st October 1882, H.W. Macleod, 16th October, 1886, J.T. Hutchinson 1st January, 1889 and Sir W. Brandford Griffith, 29th May, 1895. It is instructive that Sir Brandford Griffith was also appointed governor on 24th April, 1885.
Sir Philip Crampton Smyly became Chief Justice on 14th September 1911.
…. Chief Commissioners, Ashanti
Ashanti had Chief Commissioners who administered the place. One of such commissioners, Charles Henry Harper, was so popular that a street was named after him.
The first Chief Commissioner for Ashanti was Sir Donald Stewart who assumed the position in 1895, followed by Sir Francis Charles Fuller 16th February, 1905, then Charles Henry Harper, 4th May, 1920.
He was succeeded by John Maxwell on 22nd July, 1923.
John Maxwell had time for other activities outside the busy schedule of running Ashanti.
The Gold Coast Handbook, the source of some of my write-ups, was prefaced by John Maxwell, a Chief Commissioner for Ashanti in 1923.
…Chief Commissioners, NT
The Northern Territories (NT) were also administered by Chief Commissioners as was Ashanti.
Colonel A.E. Watherston, a Royal Engineer officer of the British Army, was appointed Chief Commissioner of the Northern Territories on 30th April, 1905. He died while serving as Chief Commissioner.
He was followed by Captain C.H. Armitage, who was appointed Chief Commissioner on 28th January, 1910. Succeeding him was A.J. Philbrick, appointed 3rd January, 1921. Maj A.H.C. Walker-Leigh took over on 8th May, 1924.
The Gramophone
His Majesty's Voice (HMV) was the leading source of music for the modern Gold Coaster. In the 1950s, it cost a little over one pound, something not many could afford.
The accompanying 1928 advertisement says it all about His Majesty's Voice gramophone.
The Prefect
This is the Prefect one of the leading British cars in the Gold Coast and in the first few years after independence.
By A.R. Gomda