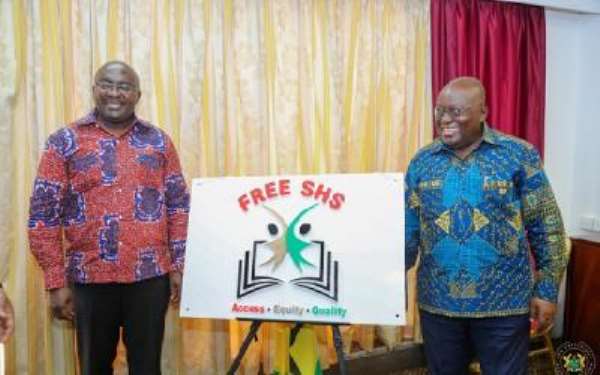 We need a resilient and pragmatic solutions to the economic problems in the country and Free Senior High School is the least solution of the broader problem .
Free Senior High School has No legs to go anywhere,it has come to stay."Even if I become president,I will make it better than its current nature"so is the vision of any successive government. I want to iterate that, FSHS is funded by our oil and Gold revenue so where is the over GHS 140 billion reckless borrowing money under this government in less than four(4 ) years with nothing to show as compared to the GHS 55 billion in the 8 years of the previous administration .
The government of NANA ADDO and the NPP can not achieve ONLY free Senior High School and over GHS 140 billion cannot accounted MUCH for. I think this government could have than better as it is the ONLY government that is lucky to have obtained more revenue in their tenure .Our education doesn't deserve this flip flops especially in the area of infrastructure and the quality of teaching and learning .
"To whom much is given, much is required ".The amount of money this government has mobilized is enormous enough to have lift Ghanaians from poverty and under development
We have had an era of unprecedented "GOLDEN PROMISES" from this government but am sad to mention that Ghanaians are disappointed and astounded with the level of mediocrity,incompetence,absurdity,laxity, inertness, corruption, insecuritis and obtuseness exhibited in less than four years in office and is very mind boggling.
Covid 19 alone has given us about GHS2 billion IMF and internally generated and solicited funds put together yet there are No emergency treatment centres,No hospitals. Relieve funds shortened and narrowed to party sympathizers.What kind of country and generation are we building?
The economy is in deep shocks putting pressure on businesses. Inflation is looking pretty good on papers and on the face of propaganda but practically in the markets and in trading we are experiencing a tremendous and unrealistic high inflation that is never mentioned on political grounds, analysis, budget readings and address to the nation.
We are soaked, fed and programed with propaganda, to forcefully believe all is well with the country. Am only sad for the kind of future we are building for the generation "what is seen and done to the hearing of little children turns to the formation of character."
Our leaders lack pragmatic and lasting solutions to our problems and hence they resort to lazy propaganda and indictment.
We will fight till Economic freedom is achieved under whatsoever circumstances.
We will fight till there is transformation in the livelihood of Ghanaians and transparency in governmance towards the masses and the vulnerable.
Power to the EFF-GH.
Article by Fighter ANTHONY AKUDAGO.
EFF-GH
Email [email protected]
https://eff.healthytastenaturals.com
Tel:+233244940504