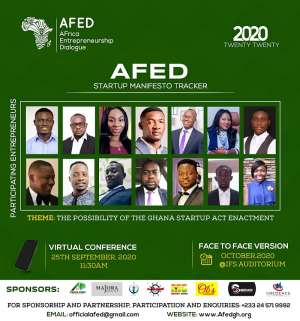 The Ghana Startup Act became the most relevant topic for discussion in changing the narrative of the startup Ecosystem in Ghana after a desk study by Africa Entrepreneurship Dialogue (AfED) in 2017 envisioned by the original advocate, who is the Executive Director of AfED, Justice Offei Jr.
AfED consequently, launched the Ghana startup Act Advocacy in 2018 at British Council; which summoned representatives from the government side (NEIP), think tanks, legal consultants, experts, and entrepreneurs to discuss the thematic areas of the proposed Act and the way forward.

In 2019, AfED enlarged the spheres of advocacy that saw other Associations of Entrepreneurs joining the campaign. It is now convincingly clear that the startup Act is the way to go regarding the quest for a conducive environment for the startup ecosystem to thrive.
AfED2020 FLYER
This year, AfED 2020 Conference agreed to produce a Position Paper for the Startup Act to consolidate all the efforts and arguments in support of the Act. This Paper is to officially let the people of Ghana aware of this advocacy and its justification via the corridors of the Parliament Of Ghana- the speaker, majority and minority leader, the media houses, leaders of major political leaders.
"Our Stance regarding how the drafting of the Startup Bill should be approached is a simple bottom-up approach; a series of participatory stakeholder conferences; holistic, independent and non-political", the Executive Director of AfED asserted during the virtual conference.
According to the World Bank, a high ease of doing business ranking means the regulatory environment is more conducive to the starting and operation of a local firm. The rankings are determined by sorting the aggregate scores on 10 topics; starting a business, dealing with construction permits, getting electricity, registering property, getting credit, protecting minority investors, paying taxes, trading across borders, enforcing contracts, and resolving insolvency.
In the 2019 Ease of doing business ranking, Ghana is ranked 13th within the sub-Saharan African zone and 118th globally among 190 economies. These indicators instructively indicate the need for more reforms specifically in the direction of legal reforms to improve the ecosystem.
Consultants and Experts present at the conference included Dr. Theo Acheampong, Lawyer Courage Asagbna,Mr Ali Mnif (From the Tunisa Startup Act College), Maame Awinador (Trade Expert), Fiatui Albert Derrick, Willaim Beeko (Modern Ghana), Farouk Khailan (Entrepreneur), Natalie Fort (Host, Communication Dir. Afed), Josiah Eyison (Ceo, iSpace), Sheriff Ghali (Ceo, GCYE) and others. Kojo Yanson, Dr. Amos Mensah, and Afia Pokua couldn't join due to uncontrolled circumstances.
Acknowledging AfED 2020 Sponsors: Modern Ghana, Centre for International Maritime Affairs, Logical Maritime Services, Taycoon Impression, and Shrewd Communication.