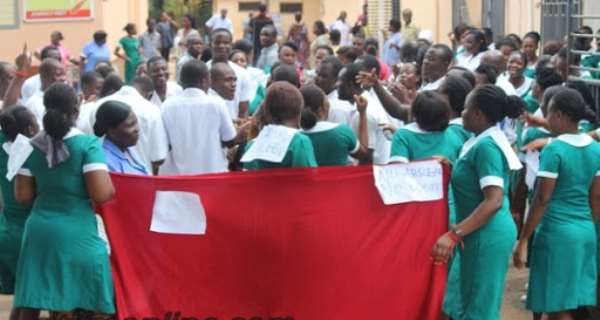 Last week, the Ghana Registered Nurses and Midwives Association (GRNMA), comprising all public sector nurses, midwives, physician assistants (PAs), and anesthetists embarked on a nationwide strike.
The leadership of the association called off the three-day-old strike on, September 23, 2020, due to a court injunction secured by the National Labour Commission restraining them from embarking on the industrial action.
The association amongst other things are demanding for;
Book and research allowances for their tutors in the colleges of health and nursing.
On-call duty facilitation allowance
Placing Rotation Nurses and Midwives on appropriate grades (12L and 12H) on the Single Spine Salary Structure (SSSS)
Resolution of issues relating to conversion difference due to migration of nurses and other striking health professionals onto the SSSS
8% Non-basic salary allowance
Uniform allowance
Rural allowance
Uniform allowance
Rent allowance
Restoration of vehicle importation tax waiver for nurses and others.
When COVID broke, these nurses and other health personnel stood to fight this virus head-on. When most of us were home, they were out to fight the virus. Many of them had to abandon their homes and family for fear of infecting them. Some for months could not see their family. Many got infected in the line of duty. On June 6, 2020, the Ghana Medical Association said four medical officers have died of COVID-19 with more than 150 other health persons including nurses infected and battling for their lives. Many died after this release.
Going forward, government should use this window of court injunction to bring back the association to the negotiation table. Realistically, government cannot meet the entire demands highlighted above but government should meet them halfway. Nurses save lives, let us 'save' theirs by having a look at their condition of service. Government has shown some goodwill in the past; increment in salaries for frontline health workers, tax exemption for health workers etc. This I think gives government some sleeve of trust in the eyes of the association and with reasonable and realistic assurances, the health workers will return to work.
Nurses and their colleagues should also reconsider and rethink their demands. Our economy and that of nations globally has taken a huge blow by COVID-19. Also, the poor patients who are your primary 'customers' are suffering and all of us can become victims if entrenched positions are taken. Uginlen Nabuja, the 88-year-old woman from Parambo in the Pru East District in the Bono East Region fell casualty to this sticky wicket.
I will conclude by charging all nurses to uphold the tenets of humanity and service. Nurses should always recite and remember the mission of the association leading their charge; 'to develop the nurse professionally to cope with contemporary challenges of the profession towards the promotion of the health of our clientele and their socio-economic status'.
It is not right for a nurse to ignore the calls and cries of a freshly operated patient who wanted to use the washroom. It's not professional for a nurse to tell a patient crying in excruciating stomach pain 'wait for me to finish my tea'. It is not fair for midwives to hurl insults at an expectant mother. We appreciate your service to us but as some of us fight for your interest now, fight and care for our interest when we come to the hospital. Our health should be your concern.
Writer; Eugene Osei-Tutu