The Scramble For Africa: "A Call For Unity Among African's States"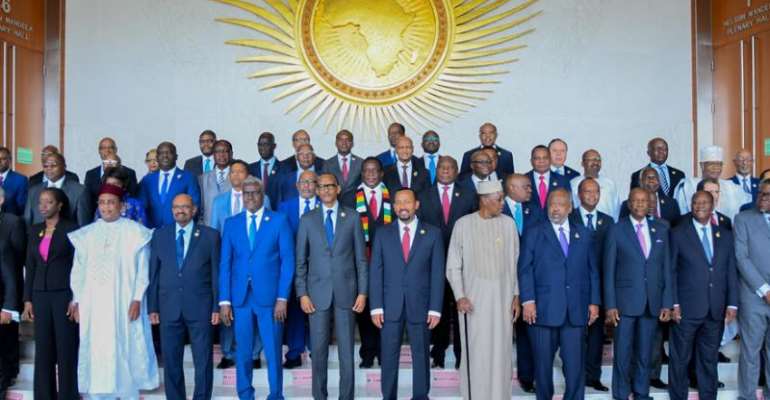 The Scramble for Africa as a result of the Berlin Conference between 1884 to the early twentieth century was the worst disaster to have ever happened to Africa, and it was a crime against humanity. It began 1884 with the Berlin Conference and ended by the early twentieth century. Africa found itself being divided by non-Africans with imaginary borders, and Colonies.
They partitioned Africa's with limited knowledge about Africa's history, culture, ethnic, language, and traditional leadership leaving us with almost no past. They designed regional maps without providing any notification to traditional African rulers. This deprived African borderland communities of lucrative opportunities by hindering their movements, and forcing them to live differently than their customary life. A change is possible, we no longer live in the eighteen or nineteen centuries, it is now! A more peaceful and robust change is possible and very necessary, I remained optimistic.
Colonial Borders in Africa:
The post-independence government continued colonial practices and use of these artificial borders which were designed by the colonialists as political instruments and have increased instability and underdevelopment for borderland communities across the continent. Africans stop moving freely in their everyday activities, and nomadic practices, which inflicted economic hardship and social inconvenience. Changing the lifestyle and structural systems of African communities negatively affected African lives, administrative structures, social cohesion and economic well-being.
Traditional leadership:
The institution of traditional leadership in Africa pre-existed during colonial time and was the only known system of governance among indigenous people. However, after independence many African countries developed antagonistic relationships between traditional leaders and society. They further removed the chief's rights; allowing them only the arbitration of domestic disputes and to sit on village development committees claiming that they lack the power to organize society.
The chiefs' environmental authority was not recognized, and the chiefs could no longer function as custodians of the land, especially as custodians of customs, culture and values. They could neither allocate it nor protect it from any form of degradation. Several strategies were used to removed chiefs, and the aim was to destroy traditional leadership, and to bring in western democracy, and forgetting our own understanding of democracy (ruler ship) which was unique in its own ways, and nowadays refer to as "consensus", All of this was possible simply, because we decided to continue the use of these improper borders in order for western democracy to function properly. This affected the traditional African governance structure.
There is a need for traditional authorities to be recognized through African Constitutions., We need to give back power to traditional leaders to restore dignity and role in society.
Traditional/indigenous leadership is still relevant as a trusted institution for governance by the majority of Africans. They still play an integral role in the governance system on the continent and as such they should not be silence. There is still hope for Africa to change the narrative.
Divide and rule:
Besides artificial deliberate borders, European colonial powers employed "divide and rule," "direct rule," and "assimilation" policies, which forced the loss of social norms, identity, and social order for Africans. For instance, it took 30 years to settle the boundary between Congo and Uganda. Yet they are all African (same people), but with different nationalities and have developed hostility through resource competition, which often led to traditional Africans breaking away from their original tribes to form new communities. This problem is still prevalent with almost no intervention from political leaders on the continent. We have contemplated what damage the status quo has done and is still doing — it is time to start to think about an alternative, because the sustenance of democracy is the responsibility of every citizen through its traditional values system.
Why should Africa unite?
Kwame Nkrumah a long time ago thought 'Africa ought to marry or perish!' Without honest African unity, our continent will continue at the mercy of imperialist authority and exploitation. In February 2009, upon the individual nominated chairman of the 53-nation African Union in Ethiopia, Gaddafi told the assembled African leaders: "I shall continue to insist that our sovereign countries work to achieve the United States of Africa". The African Union, by contrast, has fixed itself the errand of edifice, a "united and integrated" Africa by 2025. Africa has a great potential good number of Africa's resources remain unexploited.
As we navigate these stormy times as a continent permit me to give profound reasons why Africa's obligation to marry is urgent and necessary.
Africa's Wealth:
Africa is enormously wealthy! When people say Africa is rich they are not talking about physical cash. In fact, Africans have the wealthiest land mass on the earth. This wealth can be found in its gigantic mineral resources and in its titanic agricultural potential. Africa's limestone wealth includes a broad form and giant measurements of assets that are life-threatening to the expert and industrialized enhancement of humanity, e.g., gold, platinum, diamonds, manganese, cobalt, chromite, coal, radium, iron ores, chromium, copper, lead, zinc, tin, titanium, antimony, tantalum, germanium, lithium, phosphates, bauxite, uranium, petroleum, and natural gas. Parallel records may well be provided on the subject of Africa's agricultural potential, which remains largely untapped.
According to a research done by the All African People's Revolutionary "There is an estimated 632 million hectares of arable land in Africa, only 179 million hectares are actually cultivated, less than 30% of its arable land. In fact, this arable land is in just four countries (the Democratic Republic of the Congo, Nigeria and the two Sudan's), where nearly 40% of this uncultivated land is located", there is enough agriculturally-rich land to feed Africa's 1 billion inhabitants numerous epochs over. However, with the colonialist imaginary borders and partition of the continent this wealth is unevenly distributed, and Africans can only benefit from this wealth when it is developed and shared on a continental basis.
Common currency:
African states have been unable to achieve a stable single currency, and low inflation rates, but a Common Currency One of the best ways to integrate Africa's economy, enhance inter-African trade, and gain control in setting the prices of African exports is through the use of a common currency. A collective African currency will eliminate the transaction outlay customers fee at what time trades a sundry currency other than their own, exceptionally for folks intricate in inter-African trade. Secondly, the prices of goods and services will be more transparent, and thus more comparable, when there is a common currency. Thirdly, the African familiar currency will turn into an intercontinental currency of privileged importance that billions of people, inside and outside of Africa, will have to acquire to purchase anything made and sold anywhere in Africa.
This would enable Us solve the trade deficit (Balance of Payment) that exists between Africa and other continents. It will definitely lead to the common currency appreciation against USD, Euros, Pounds etc. The far-off funded conflicts in South Sudan, Central Africa Republic, DRC Congo amongst others cannot happen, and Senegal will cease Paying imposing taxes to France. Common currency will grant easy access to loans with lower interest rates and will lead to low public debt.
Free trade:
Single continental market for merchandise and services, with free movement of business professionals and investments, accelerating the institution of the Continental Customs Union, and the African customs union. Free trade will increase intra-African trade through superior management and coordination of trade liberalization and facilitation across Africa. Enhances competitiveness at the productiveness and endeavor horizontally by exploiting opportunities for ascend production, continental market access, and better reallocation of resources.
According to a research paper published by the United Nations Conference on Trade and Development (UNCTAD) in February 2018, Continental Free Trade Agreement eliminating all tariffs could generate welfare gains of USD 16.1 billion, at the expenditure of USD 4.1 billion in trade revenue losses (representing 9.1% of contemporary levy revenues).GDP and employment are likely to cultivate by 0.97% and 1.17% respectively. Intra-African trade advance is estimated at 33% and the continent's trade dearth is estimated to crash by 50.9%. The aims are to boost intra-African trade by making Africa a single market of 1.2 billion people.
Agriculture:
The need for Africa to diversify its economy from commodities alone has been mentioned constantly by many economic commentators. The agriculture sector is tremendously important to Africa's economies, but over the years has been the most neglected sector in Africa's. A study from 2016, shows that the agricultural sector employed about 65% of the continent's labor force, and 75% of its domestic trade. After all, only one country, the Democratic Republic of the Congo, has the agricultural potential to feed the entire continent. How, then, Africans are starving when only one of Africa's micro-states is capable of feeding the whole continent?
There is absolutely no reason for the people of Africa to be going hungry anywhere on the continent with these arable lands,favorable climate and huge water bodies located throughout the continent. Agriculture will also lead to the creation of a more viable African marketplace for food. There is a need to boost agricultural productivity to attain sustainable manufacturing agribusiness growth as an agency of wealth and task creation. The agricultural potential of our great continent can only be realized when we plan continentally, and this can only be done by a unified Africa.
No independent African State today by itself has a chance to follow an independent course of economic development. This position will not change unless we have a unified policy working at the continental level. The major problems facing Africa do not affect various states separately, nor can they be solved separately. Our unity is their disaster, but we must each and every African fasten on the utter dream "we must unite".
Reference
Improper Design and its Impact on African Borderland Communities
https://africaupclose.wilsoncenter.org/colonial-borders-in-africa-improper-design-and-its-impact-on-african-borderland-communities/
https://aaprp-intl.org/10-reasons-why-africa-must-unite/
Prinston anthony sieh moosh Nimene Is a master candidate at cavendish University Uganda studying international relation and diplomatic studies.