THE CLASS ROOM IS NOT ENOUGH – AKYEREYEREFO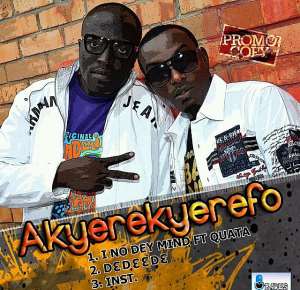 Bakus Entertainment signed artiste 'Akyerekyerefo' has disclosed to nanayaw18.com that even though they are professional teachers, the class room is not enough tool to educate the world hence music is convincing and powerful tool for education.
The group whose newest video 'I no dey mind' featuring Quata the lyrical gun is doing well on youtube and TV, explained their reason for saying that the class room is not enough tool as: 'the class room is a four square room within a wall and the students we teach are less than the majority population in the world hence as teachers of music (Akyerekyerefo), we believe that the best tool to use in order to reach a loud population is music'.
Makoni of 'Akyerekyerefo' noted that, the very reason why they chose that name was to be able to preach some good education through the walls of music and if we say education, we are not referring to the formal education but we believe in life everyday people learn something from the streets right to offices.
'Our first single with Quata was a way to let fans know that we are versatile but the real 'Akyerekyerefo' will be exposed in our new single hopefully to be recorded by the Genius Selection,' Makoni maintained.
The boys from Bakus Entertainment were grateful to the label and its team for holding them down till this time, they know that God will richly bless them and push the label far.
In their ending words, 'Akyerekyerefo' wants Ghana as a whole to prepare for them, now they have two singles out, 'I no dey mind and 'D3d33d3' (sweet) and they not doing bad on the market but with the new single coming scheduled to for release soon, Ghanaians will embrace them more.
Teachers of music, 'Akyerekyerefo' are ready with the chalks and black boards, Ghana, lets sit in class as they take us through the journey of good music lessons.
Nana Yaw Wiredu – nanayaw18.com