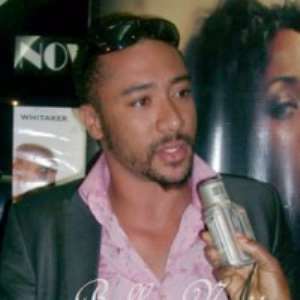 Majid Michel
Ghana's movie industry is likely to be plunged into yet another controversy over the upcoming African Movie Academy Awards (AMAA).
In what looks like a deliberate sabotage, screen 'bad boy' Majid Michel's name has been removed from the nomination list for the awards by a section of Ghanaian media in their reportage.
The reason behind the media houses in question's stance is not quite clear, but it is happening at time when the feud between Majid and a section of the media has died down.
AMAA official website mentioned Majid for the category of Best Actor in Leading Role and he is competing with fellow Ghanaian actor Ekow Blankson and four others, Themba Ndaba, Patsha Bay, Jimmy Jean-Louis and Antar Laniyan.
However, a section of Ghanaian online media and some radio stations, in their various publications, have omitted Majid's name from the nomination list.
Indications are that the media houses picked the nomination list from the AMAA official website, after which they omitted Majid's name in all their reportage on the awards.
Last year, some media reportage led to a controversy over the true winners of AMAA's best actress category.
Majority of media outfits in the country, after the awards ceremony, created the impression as though Jackie Appiah alone won the best actress category, even though she co-won the award with Lydia Forson and Naa Ashorkor Mensah Doku.
For most critics, what transpired was a clear sign of sabotage and Majid's omission could be the controversy of this year.
This year's AMAA nomination was released in Kenya on Friday evening at a huge reception. For the second year running, Ghanaian filmmaker Leila Djansi made a huge impression on the Africa Movie Academy by receiving multiple nominations for the 2011 Africa Movie Academy Awards (AMAA).
Unlike the previous year when she topped the list of nominations, this year, she came in second to Djo Tunda Wa Munga's 'Viva Riva' from Congo.
Leila's widely acclaimed 'Sinking Sands',  a psychological drama about a love affair that turns into  a relationship full of abuse, received 9 nominations  including Best Film, Best Screenplay, Best Director, Best Cinematography and others. 'Viva Riva' received 11 nominations.
'Viva Riva' is 'is a crime thriller about a nasty gang war ignited by a fuel crisis in Congo, a breathless story of the rise and fall of Riva, a Congolese smuggler who makes a fortune overnight and is hunted down in Kinshasa,' according to ameyawdebrah.com.
Other movies that received multiple nominations include 'Hopeville', 'Aramatou', 'Soul Boy' and others. Ghanaian movies 'Ckeckmate','6 Hours To Christmas', 'Who Owns Da City', and 'Elmina also received nominations.
Below is the full list of nominees:
Best Short Film
'Bougfen' - Petra Baninla Sunjo (Cameroun)
'Weakness' - Wanjiru Kairu (Kenya)
'No Jersey No Match' - Daniel Ademinokan (Nigeria)
'Duty' - Mak Kusare (Nigeria)
'Bonlambo' - Zwe Lesizwe Ntuli (South Africa)
'Zebu And The Photofish' - Zipporah Nyarori (Kenya)
'Dina' - Mickey Fonseca (Mozambique)
'Allahkabo' - Bouna Cherif Fofana (Togo)
Best Short Documentary
'Symphony Kinsasha' - Diendo Hamadi & Dinta Wa Lusula (Congo)
'Naija Diamond' (Feature On Dr. Rahmat Mohammed) - Nform Leonard (Nigeria)
'After The Mine' - Diendo Hamadi & Dinta Wa Lusula (DRC)
'Stepping Into The Unknown' - Rowena Aldous & Jill Hanas-'Hancock' (South Africa)
'Yeabu's Homecoming' - Jenny Chu (Sierra Leone)
Best Documentary
'Kondi Et Le Jeudi Nationale '- Ariana Astrid Atodji (Cameroun)
'Headlines In History' - Zobby Bresson (Kenya)
'Co-Exis' - Adam Mazo (Rwanda)
'State Of Mind'- Djo Tunda Wa Munga (Congo)
'Naija Diamonds'- Nfrom Leonard (Nigeria)
Best Diaspora Feature
'Suicide Dolls' - Keith Shaw (USA)
'Tested' - Russell Costanzo (USA)
'Nothing Less'-Wayne Saunders (UK)
'The Village' -Wayne Saunders (UK)
Best Diaspora Documentary
'Stubborn As A Mule' - Miller Bargeron Jr & Arcelous Deiels (USA)
'Momentum'- Zeinabu Irene Davis (USA)
'If Not Now' - Louis Haggart (USA)
'Motherland '- Owen Alik Shahadah (USA)
'Changement' - Chiara Cavallazi (Italy)
Best Diaspora Short Film
'Cycle'- Roy Clovis (USA)
'Under Tow' - Miles Orion Feld (USA)
'Habitual Aggression' - Temi Ojo (USA)
'Little Soldier' - Dallas King (USA)
'The New N Word' - Sowande Tichawonna (USA)
'Precipice' - Julius Amedume (UK)
Best Film For African Abroad
'Anchor Baby' - Lonzo Nzekwe (Nigeria/Canada)
'In America: The Story Of The Soul Sisters'- Rahman Oladigbolu (Nigeria/USA)
'Mirror Boy' - Obi Emelonye (Nigeria/UK)
'Africa United' - Debs Gardner-Brook (Rwanda/UK)
Best Production Design
'Tango With Me'
'Viva Riva'
'Hopeville'
'6 Hours To Christmas'
'Maami'
Best Costume Design
'Inale'
'Yemoja'
'Sinking Sands'
'Aramotu'
'Elmina'
Best Make Up
'Inale'
'Sinking Sands'
'A Private Storm'
'Viva Riva'
'A Small Town Called Descent'
Best Soundtrack
'Viva Riva'
'Africa United '
'Izulu Lami'
'Inale'
'A Small Town Called Descent'
Best Visual Effects
'Aramotu'
'Nani'
'Who Owns Da City'
'Inale'
'A Small Town Called Descent'
Best Achievement In Sound
'Sinking Sands'
'Shirley Adams'
'Izulu Lami'
'Viva Riva'
'Tango With Me'
Best Cinematography
'Sinking Sands'
'Maami'
'Izulu Lami'
'Hopeville'
'Viva Riva'
Best Screenplay
'Soul Boy'
'Sinking Sands'
'Hopeville'
'Shirley Adams'
'Izulu Lami'
Best Nigerian Film
'Maami' - Tunde Kelani
'Aramotu' - Niji Akanni
'Tango With Me' - Mahmood Ali- Balogun
'Inale' - Jeta Amata
'A Private Storm' - Lancelot Oduwa Imaseun/Ikechukwu Onyeka
Best Film In African Language
'Aramotu' - Niji Akanni (Nigeria)
'Izulu Lami' - Madoda Ncayiyana (South Africa)
'Soul Boy'- Hawa Essuman (Kenya)
'Suwi' - Musola Catherine Kaseketi (Zambia)
'Fishing The Little Stone' - Kaz Kasozi (Uganda)
Best Child Actor
Sobahle Mkhabase (Thembi), Tschepang Mohlomi (Chili-Bite) And Sibonelo Malinga(Khwezi) - 'Izulu Lami'
Eriya Ndayambaje- (Dudu) 'In Africa United'
Jordan Ntunga- (Anto) In 'Viva Riva'
Ayomide Abatti- (Young Kashi) In 'Maami'
Benjamin Abemigisha- (Zebu) In 'Zebu And The Photofish'
Shantel Mwabi- (Bupe) In 'Suwi'
Best Young Actor
Yves Dusenge (Child Soldier) And Roger Nsengiyumua (Footballer)- 'Africa United'
Samson Odhiambo And Leila Dayan Opou - 'Soul Boy'
Edward Kagutuzi - 'Mirror Boy'
Donovan Adams - 'Shirley Adams'
Junior Singo - 'Hopeville'
Best Actor In Supporting Role
Osita Iheme - 'Mirror Boy'
Hoji Fortuna - 'Viva Riva'
Mpilo Vusi Kunene - 'A Small Town Called Descent'
John Dumelo - 'A Private Storm'
Desmond Dube- 'Hopeville'
Best Actress In Supporting Role
Mary Twala - 'Hopeville'
Joyce Ntalabe - 'The Rivaling Shadow'
Marlene Longage- 'Viva Riva'
Tina Mba -'Tango With Me'
Yvonne Okoro - 'Pool Party'
Best Actor In Leading Role
Themba Ndaba - 'Hopeville'
Patsha Bay -'Viva Riva'
Jimmy Jean-Louis - 'Sinking Sands'
Ekow Blankson - 'Checkmate'
Antar Laniyan - 'Yemoja'
Majid Michel - 'Pool Party'
Best Actress In Leading Role
Idiat Shobande -'Aramotu'
Omoni Oboli- 'Anchor Bab'y
Manie Malone - 'Viva Riva'
Ama K Abebrese- 'Sinking Sands'
Denise Newman -'Shirley Adams '
Genevieve Nnaji - 'Tango With Me'
Best Director
'Soul Boy' - Hawa Essuman
'Shirley Adams' - Oliver Hermanus
'Viva Riva' - Djo Tunda Wa Munga
'Aramotu' - Niji Akanni
'A Small Town Called Descent' - Jahmail. X. T Qubeka
'Sinking Sands' - Leila Djansi
Best Film
'Viva Riva' - Djo Tunda Wa Munga (Congo)
'Sinking Sands' - Leila Djansi (Ghana)
'Aramotu' - Niji Akanni (Nigeria)
'Soul Boy' - Hawa Essuman (Kenya)
'Hopeville' - John Trengove (South Africa)
'A Small Town Called Descent' - Jahmil X.T Qubeka (South Africa)
Source: NewsOne