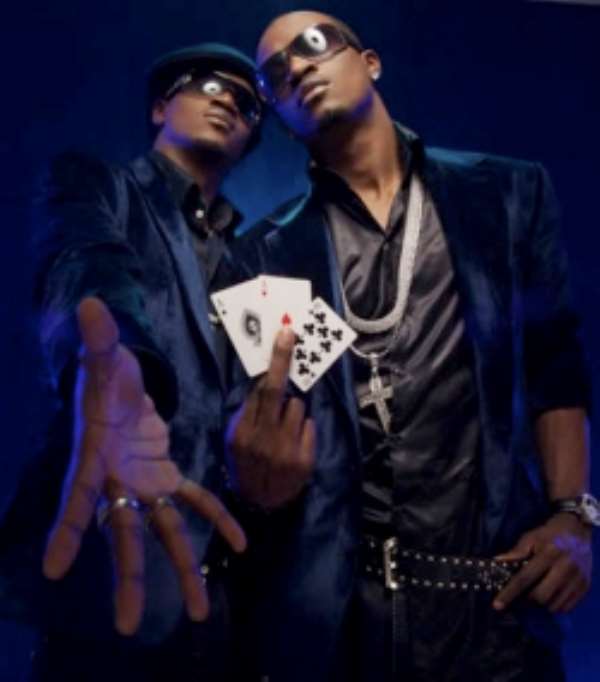 The story of P-Square began in St. Murumba College, a small Catholic school in Jos, Nigeria. Identical twins Peter and Paul joined their school's... music and drama club where they began singing, dancing, and miming songs by MC Hammer, Bobby Brown and Michael Jackson.
They later formed an acappella quartet called MMPP (Michael, Melvin, Peter and Paul). Drawing inspiration from their music idol Michael Jackson, they began break dancing, and formed the group called "Smooth Criminals" in 1997. Their artistic talent and precise dance routine soon made them household names in the city of Jos, where they performed at school functions and other occasions.
Later in 1999, Peter and Paul returned to music school to develop their skills on keyboard, drums, bass and rhythm guitar. Their work includes the soundtracks for films like Tobi, Mama Sunday, Moment of Bitterness, Evas River.
Academic pursuits led them to the University of Abuja later that year, where they were admitted to read Business Administration. The Smooth Criminals disbanded when its members were dispersed to northern universities in Nigeria. Subsequently Peter and Paul formed their own group, variously called "Double P", "P&P", and "Da Pees", until they eventually settled on "P Square".
In 2001, P Square won the "Grab Da Mic" competition, hence Benson & Hedges sponsored their debut album, titled "Last Nite", which was released under Timbuk2 Music Label.
They are managed by Bayo Odusami popularly known as Howie T, a seasoned concert promoter and the CEO of Adrot Nigeria Limited. P Square was nominated as "Most Promising African Group" in the Kora Awards three months after the release of their debut album. They eventually won the 2003 Amen Award for Best R&B Group.
P Square has now released their second album, "Get Squared" under their own label, Square Records. This album is marketed nationwide by TJoe Enterprises, although they are still managed by Howie T of Adrot Nigeria Limited.
The video for the second album, "Get Squared", held the #1 position on the MTV Base chart for four straight weeks.
They have an ever growing fan base across South Africa with a particular stronghold of die-hard fans in Cape Town. Audi station wagon sales numbers have rocketed in Cape Town since one featured in the band's latest video.
Compass enetertainment's Hazeez Balogun recently caught up with the duo before one of their stunning performances in Makurdi, Benue State.
MUsical success has sure come the way of P-square and from dancing in the streets to Africa stars in a short while, even the duo find it hard to believe the speed with which they have grown. "Everything is too fast. Sometimes successes like ours takes a long time to happen, or happens gradualy. In our case, it's totally different, everything is happening with speed. Each week we travel to like three countries; it's amazing, it's something that should happen but it's happening fast."
Music, they said, is not their first and major talent. One would have been stunned to see Peter and Paul kicking football, but that was exactly how it started for them. 'We were supposed to be footballers. We used to play football. Paul was a goalkeeper. We were in the same team with Mikel Obi. Football was our back up. We don't play football anymore, if we play football, we can't dance as easily as we dance because of injuries and all that'.
When the group started gaining recognition, they were heavily criticised for singing other people's songs or better still interpolating tunes and beats. To date there are still some who will claim they can prove that all P-Square's songs include bites from other people's songs. However the truth is that taking samples from other's music is normal and not a rare occurrence in the music industry according to Peter, those days are over.
"They are now convinced that we are here to stay. They say we're sampling and we're still selling records. Everyone samples. Even P Diddy, R Kelly. We used to hear that before but not anymore. People like what we bring out. That's the most important thing. So, at the end it's about doing what you do well."
Despite the closeness and the natural chemistry; as they themselves have said in one of their songs "Peter and Paul we be one no be two". They will eventually grow up have a family of their own. Some months ago, they celebrated a talk of the town 28 years birthday. Peter as it has become public knowledge is in a serious relationship, while Paul though still denies it is said to be having a secret affair. Whatever the case may be, they are both fast reaching that point in a man's life where a decision must be made. With a horde of girls out there ready to trade an arm to be with P-Square, will these two make the decision to marry soon? 'no o, we don't even see that happening in ten years time. I am only joking sha but the truth is that marriage is not the next thing on our agenda now, we still have a lot to achieve', Paul says.
Even when they eventually get married won't that break up their brotherhood? Well the two seem to have it all worked out. They sure do agree that marriage will bring a lot discomfort to the musical group P-Square as it will bring some kind of divided attention. 'We may have to be at the airport, one of us might say his wife is sick, or he has to see his son, and stuffs like that. It may definitely bring a lot of misunderstanding. That's why we're not thinking about it right now'.
So is their relationship water-tight? 'We're not God, we can not predict' even if there's going to be anything, it's going to be an understanding, we're equal partners and we're twin brothers. 'We argue, we fight, but it makes us better. Arguments bring better songs, better videos. We are humans. I remember when we were recording 'Get Squared' we quarrelled for over three months. We were living in the same house, and we didn't talk. I didn't like 'Bizzy Body,' Paul didn't like 'Get Squared.' And those two songs blew us up.
Twins are most known to always compete against each other. There must have been some race over who gets a girl, or fight over a lady. 'There's never been a time like that' says Peter. We've never had any argument on a particular girl. We don't do that."
The twins with their breakthrough with music are not putting their money where their mouth is. Instead they are putting bread on people's tables, literarily. They have a few investments and one of them is a bakery. 'We finished a bakery; "Twins Bread." We're hoping to move it to Abuja. The land in Anambra is there too but we're looking at all the possibilities. We bought 20 plots of land in Jos. We don't even know what to do with it. It's so large. Like our house in Lagos now, It's our property. It's not easy to pay for a house like that automatically. Even if you are paying for it gradually, it's yours already. We've got a plot of land in Lekki too. We're just investing in these things."
Do these young stars still have childhood memories?There was this particular rock behind our house, we would climb the rock, sing and disturb everyone. Then a woman used to sell "akara," we would buy from her...we were doing that because someone said if we wanted to sing, you have to climb a very high place and sing so people can know you can sing.
The awards list keeps lenghtening...
Hip Hop World Awards 2006 - Best R&B Album (Get Squared)
Hip Hop World Awards 2006 - Best Music Video (Get Squared)
Hip Hop World Awards 2006 - Album Of The Year (Get Squared)
Hip Hop World Awards 2006 - Song Of The Year (Bizzy Body)
City Mag 9th Awards Show (2006) - Best Hip Hop Group
Nigerian Music Awards (NMA) 2006 - Album of the year (Get Squared)
Nigerian Music Awards (NMA) 2006 - Music Video of the year (Get Squared)
2007 Channel O Music Video Awards - Best Duo Or Group
2008 Channel O Music Video Awards - Best Duo Or Group
2008 Channel O Music Video Awards - Video Of The Year ("Do Me")
MTV Africa Music Awards 2008 - Best Group