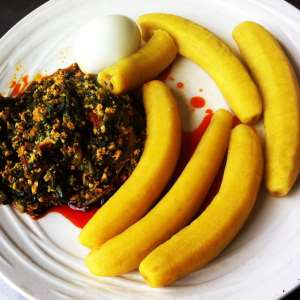 Photo credit - onlinewithmampee.blogspot.com
Ingredients
2 Pounds goat meat (you can use chicken, beef etc)
2 Large crabs
1 Smoked fish
1 Pound washed chopped Kontomire leaves or taro. (you can use spinach)
1/2 1/2 cup ground Agushi (melon seeds)
1 Cup Palm oil
2 Medium sized onions and a handful of shallots
1 Blended onion
A handful of Turkey berries known locally as Ama dweridi or Anona Ntroba in Fante or Kwahu nsusuwa or Yaa Asantewa, while the Gas call it Kantos
7-10 Medium sized tomatoes
1/4 Teaspoon cayenne pepper
1-2 Cloves of garlic
A dash or two of alligator pepper
1-2 Grated calabash nutmegs
1-2 Scotch bonnet peppers (green peppers)
5 Fingers of plantain
Salt to taste
Method
1. Chop meat into bite sized cubes
2. Clean crabs and boil for about 5 minutes in water
3. blend tomatoes, pepper and Turkey berries
4. Chop onions and put these in palm oil after heating the oil for a few minutes until hot
5. Cover agushi with water in a bowl
6. Chop kontomire into small or desired strips. Some prefer to mash or boil their kontomire
7. Add blended tomatoes and pepper(s) to browning and softening onions in palm oil. Leave to simmer until it starts to fry. Stir it for about 3-5 minutes then add the marinated goat meat pieces, smoked salmon and crabs. Fry a little more until it starts to stick whilst stirring if necessary.
8. Add chopped kontomire to the blend
9. Add spices to taste
10. Add the soaked agushi whilst stirring very gently and leave to simmer. The agushi begins to clump in the sauce after a few minutes. Try to keep the clumps in the sauce by continuing to stir very gently.
11. Leave to simmer on low heat for about 10-15 minutes
12. Boil the plantains for about 15 minutes as a side dish