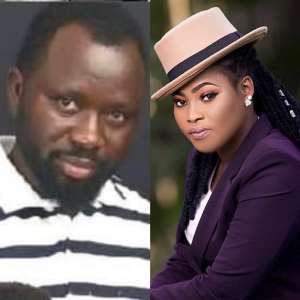 Dave Joy, a former husband and manager of gospel musician, Joyce Blessing has disclosed that the musician is still his wife after two years of reported divorce.
In an exclusive interview on Asempa FM, on Wednesday, June 15, 2022, Mr. Joy disclosed that their marriage was a traditional one, and even the court his wife sent him to over the divorce is yet to preside over the case.
According to Mr. Joy, Joyce Blessing is still his wife until their family approves the divorce or the court rules.
"Joyce is not my ex-wife, she is still my wife because we married traditionally." She has taken me to court, but the court has not presided over the case yet. The family has not approved the divorce yet," he disclosed.
Responding to the last time he heard from his wife (Joyce Blessing) he said, "I only speak to her on the phone."
Joyce Blessing was reported to have ended her marriage after alleged infidelity as widely circulated in September 2020.
Reports that went viral alleged that Joyce Blessing cheated on her husband with her gym instructor whose name was given as Prince.
Dave Joy, the ex-husband of Joyce Blessing was also accused of having an affair with his wife's publicist known as Jullie Jay Kanz.
It was after these reports that Joyce Blessing is said to have proceeded to file for the divorce.