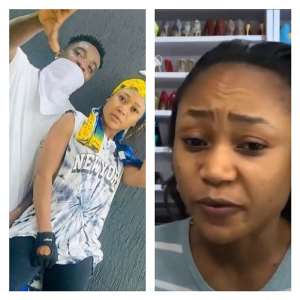 As the viral saying goes "The broken heart ego reach everybody" and the latest victim Is Ghanaian socialite and brand influencer Akwapem Polo.
This comes after she and AMG Gang rapper Armani were seen hanging out in some recent photos spotted on social media.
Netizens were served with pictures of the two been caught in amorous moments after a gym section and all hopes were high that the two were gradually growing to become the latest celebrity couple in town.
Unfortunately, there was a turnaround in events after AMG Armani in a live video on Instagram expressed that nothing was going on between them.
Armani's video;
Akwapem Poloo who had caught feelings to the extreme feels hurt and broken-hearted at the sad situation and in a separate live video is seen expressing her sentiments.
"You should have told me you had a girlfriend, I would have known so I don't catch feelings this way, I am hurt and I must admit I never knew you were going to do this to me.
"You asked me out and I agreed that we could go to the gym but if you knew you did not love me why did you allow me to kiss your face and touch you because honestly, I am sure someone is pushing you to do this to me," she started sadly.
Watch the full video here;