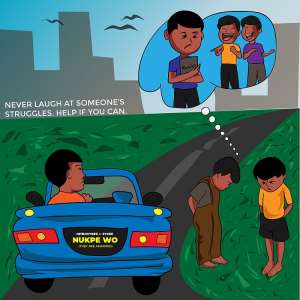 Ashiadey Clive Klenam, born in Tegbi and raised in Agbozume – both in the Volta Region – is a multitalented Ghanaian artiste who composes records mainly in the Eʋe language. He loves to explore different genres of music but has a particular bias for dancehall.
IntroVybez was the stage name Clive chose when, in 2015, he took a life-changing decision to actively pursue a career in music. He spent his early days in secondary school freestyling to an exuberant audience of supportive students that recognized his talent and enjoyed his craft.
"The love and encouragement I received from my colleagues has been a source of motivation. That's what keeps me going" IntroVybez said.
IntroVybez launched a song with a classmate, named Stepcoin, titled Me Na Fear Dem. The tune was a cherished milestone moment during the formative years of IntroVybez. It distinguished him as an exceptional talent. He was elected as entertainment prefect that year.
"The sky is the limit. There is no turning back. I have to make this music career work, take the Volta Region to the world and make Ghana proud" IntroVybez said.
He has recently stitched together a new record titled Nukpe Wo which translates into "They are ashamed". The record outlines his struggles in the music industry.
Kindly check it out here:
YouTube — https://www.youtube.com/watch?v=z-ACxQ0dxig
AudioMack — https://audiomack.com/introvybez