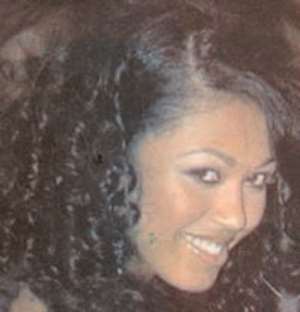 Like all women who've planned their wedding day since a girl, Rachel Ritfeld visualised her perfect day with her being the sole love attraction of her husband's heart.
But the more the half-caste Ghanaian beauty contemplated her big day, the more she got cold feet about becoming 'Mrs Thiam' or wife number four to the R&B star, Akon.
Wanting out of the heartache she decided to leave him 'lonely' at the altar.
Speaking exclusively to Britain's 'The Voice' newspaper about the break-up of her relationship with Akon, Rachel said. "I'm not a bad person, I don't do anything to hurt anybody else so why can't I be one of those women who have a normal relationship and have a family?"

"I want a man who thinks that I'm God's gift to creation and I can think the same of him."
The stunning 5"11" model who was the face of American street label Akademiks, added that she couldn't walk up the aisle and exchange love vows, despite being in love with the Senegalese singer.
She feared that he could later meet wife number five, which would no longer make Rachel his favourite -- and hearing the news about the birth of his fifth child with one of his other wives, woke her up from a two-year love dream.
"The reality check really came when Akon told me he had his fifth child with one of his wives. For the first few months I got completely freaked out because, even though I knew he had other wives, I never really thought about him being with them because his main attention was always on me -- or so I thought."
"He does not live with his wives but the birth of his latest child made everything become real and made me realise that I would always have to share the man I love while accepting his other relationships."

"At first I was very supportive but I began to question that if I was taking him into consideration and he was taking his family into consideration, who was taking me into consideration? The answer was 'nobody' so I decided I could no longer be apart of Akon's world."
Coming from a volatile past, where the 'Project Catwalk model' from Sky One, was verbally and physically abused for three years by a jealous ex, Akon was like a breath of fresh air due to his "kind and loving ways".
"Nothing was an issue," said Rachel.
"I came from a past that was very dramatic and scary into a relationship that appeared to be perfect."
"There was never any friction. Akon was honest with me about his multiple wives from the start, which never got in the way of our relationship because his wives live in various parts of the world, so I thought why fix it if it's not broken? But now I have had a complete change of heart."
The 23-year-old model explained to The Voice that the 'Sorry, Blame It On Me' signer always told her how much he loved her and called her 'his lady' promising that she would be his last wife and whatever she wanted he would grant.
"The one thing I wanted from Akon was for him to be monogamous to me but he could not grant me my wish," said Rachel.
"I thought I could handle the idea of becoming one of his wives in the beginning but who's to say some other woman he meets won't capture his heart? I soon realised that he was not the man for me."

She continued: "There were times when I wanted us to share quality time together like ordinary couples do, such as going out to dinner or cuddling up together in front of the TV but it was always impossible."
"I had to always wait until he had time out of his busy schedule or wait until I had a day-off so I could fly half way around the world to see him. The situation began to become a strain on my heart."
Speaking openly about her feelings over her break-up with the Grammy award winner, Rachel added: "Akon's love and attention was not enough. I want a lot more from a man -- I need him to be active in my life not passive."
"I need a loving man right here, right now! He's great at giving lavish huge gestures - I could have shoes for days but shoes can't hug me when I'm feeling low or lonely."
Still mending a broken heart, the former face of Miss Reggae Gold is determined to be positive about her situation. "It's not Akon's fault," says Rachel.
"He is only following his cultural and religious tradition and I had to decide whether I wanted to be a part of his customs. In the end I chose to walk away. I wish him all the best and I hope that we can still remain friends."
Voted one of the hottest women in the world by Fashion TV to ever wear a bikini, Rachel plans to keep herself occupied on the catwalk and promised not to listen to her ex's hit single 'Lonely'.
"I won't be at home feeling sorry for myself, I've got too many modelling jobs to do and I'm heavily involved in the charity Champion for Children, which I'm an ambassador for. The future looks bright."
Keeping positive the sexy model has been invited to be the Dame of Honour at the Angel Film awards in Monaco in December, and is kick-starting her acting career playing the lead role in a new romantic comedy, entitled 'Find Her, Keep Her'. She is also currently starring in 'Outside the Box' at Hampstead Theatre.
Rachel is ready for love again but insists that the next new man in her life needs to know how to "bring it" and "step up to the plate", but most importantly be monogamous!