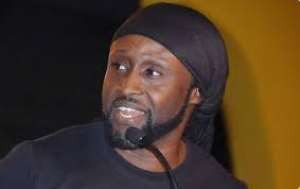 In this contemporaly world, music has been more than a food to the soul as one can't undermine the significance of music in the daily lives of mankind. In an attempt to encourage tyhe upcoming artise and also pay respect to those who has hold the music industry of Ghana high, modernghana today celebrates;
Reginald Yaw Asante Osei, popularly known as Reggie Rockstone is the pioneer of the Hip life music genre in Ghana, his brand of hip hop music: a combination of American hip hop beats with Ghanaian hi life rhythms, percussion, vernacular and Asante Twi and English.
This caused the needed recognition to be regarded as the Godfather of Hip life music. His ability to blend the rhythmic pattern of the hip hop in Asante Twi dialect made him known in Kumasi as the Oseikurom President when he released his wave paver 'Tsobooi' in the early 90s.
Grand Papa Reggie as labeled was born on the 11th of April, 1964 in the United Kingdom by the late Mr. Ricky Ossei and Mrs. Osei in England, he joined the drama school during his basic education and this shaped him in becoming a rap dancer and a rap artist. His father who was well known as one of the greatest fashion designers of that time inspired Reggie's appetite for fashion.
He had his secondary education at the elite Achimota School (formerly Prince of Wales College) which is located at Achimota in the country's capital, Accra. At the school, Reggie exhibited his unique skill in dance which later translated into rap in Asante Twi and English. He was known by his peers as Poppa Geri.
He had three albums out on the Kassa Records Label from the year 1994: 'Makaa Maka' which means ' I said it because it needed to be said', 'Me Na Me Kae' which means 'I was the one that said it' and 'Me Ka' which also means 'I will say it'. He released five 5 studio albums between 1994 and 2014. In the year 2004, Reggie Rockstone won the prestigious KORA Awards which was organized in Johannesburg, South Africa for the best African video with his popular hit single 'Ah' which was an inspiration song he crafted after he caught his best ferried having a sexual relations with her married wife.
He made many collaborations with international music arts like Beenie Man, Wyclef Jean, Shaggy, Idris Elba only to mention a few.
He married a second second wife after his divorce to a medical practitioner in the shape of Zilla Hagbangsuglo Limaan; the sixth child of the third president of Ghana, who is in the person of His Excellency the late Dr. Hilla Limann. He has a son and three daughters.
Also as an entrepreneur, Reggie is the owner of an ultra-modern lounge "The Office" which is located in the Cantonment behind the Ghana Police Headquaters in Accra, Ghana. he also owns nouveau style pub, convertible pub and many other businesses.