Ike The Unpredictable Back To Angel FM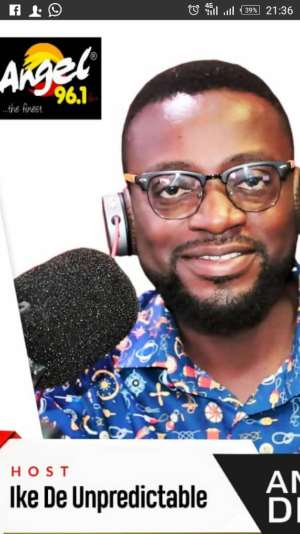 One of Ghana's finest late afternoon radio show hosts, Nana Isaac Yaw Obiri Yeboah(Ike_The-Unpredictable) has joined Angel Fm, headquarters of the Angel Broadcasting Network again after two years of working with EIB's Abusua FM in Kumasi.
Until his resignation from the EIB, this week, he had been the Programmes Manager and Drive Time host of Kumasi based Abusua FM where he was seen as the radio station's biggest attractor of advertisements from individuals and firms.
His exit from Abusua FM leaves a huge vacuum for the Bola Ray Empire to fill.
It is rumoured that very unusually, the workers of Angel Fm have welcomed news of Ike_The _Unpredictable's return with joy and happiness.
The multiple award winner is believed to be taking back his position as Head of Programmes at Angel FM.
He will also be hosting Angel Fm's late afternoon show, Angel Drive and a Sunday gospel programme, Church Bells, a reliable source at Angel FM has disclosed.
Michael Darko (Don Summer) has been promoted from Head of Sports and Programs Manager at Angel FM to the office of Director of Sports for the Angel Broadcasting Network. He therefore, would be overseeing and managing all sports programmes on all radio stations under the ABN media umbrella.
Meanwhile, after being sacked from Abusua FM, ace Broadcaster Kwame Adinkra has successfully secured employment at ABN's Kumasi based Pure FM where he is to work as Business Manager and host of Morning Show.
Ike-The-Unpredictable officially starts work with Angel Fm on Sunday 20th January, 2019.