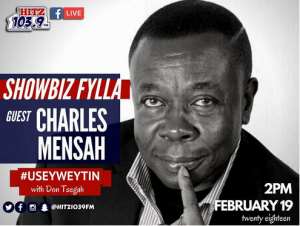 Father of multiple award-winning dancehall artiste Shatta Wale;Charles Mensah, will on Monday ,19th February, 2018 react in an interview on Hitz 103.9FM's entertainment show 'You Say weytin' on the recent prophecy that Shatta Wale is the next celebrity to die.
Prophet E. K. Mensah of the Christ Vision Prayer Ministry had prophesied that the ' Ayoo' hitmaker and the Zylofon Music signee Shatta Wale will die before July 2018 if he does not repent.
Shatta Wale in a live Facebook video responded to the Prophet prophecy by stating that if he doesn't die by December,together with his Shatta Movement were going to burn Churches in Ghana to serve as a deterrent to fake prophets.
Also in a Facebook Live video, the mother of Shatta Wale accused the prophet of causing fear and panic in the life of her son and his followers.
The most intriguing part of her comment is when she indicated candidly that prophet E.K Mensah is only good at farting.
According to Razzonline.com's checks,Shatta Wale's Father,Charles Mensah who is extremely upset about the death prophecy of his son will reveal the drastic decision he intends taking on the prophet(E.K.Mensah) and other Prophets who are only fond of prophesying doom during the interview.
'You Say weytin' is a segment on the most popular entertainment radio show "Showbiz Filla' hosted by Prince Don Tsegah— from Monday to Friday at 2pm.