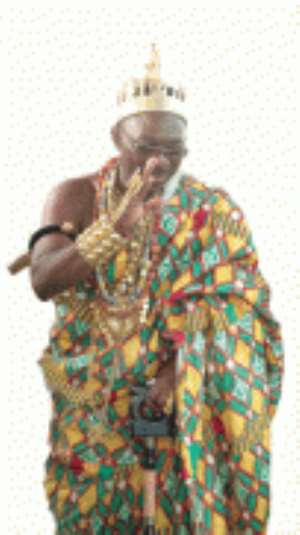 Ashuigbugbla Nyagasi, Paramount Chief of Nyagbo responding to cheers from the crowd
The Chiefs and people of Nyagbo Traditional Area in the Hohoe Municipality have held a grand durbar to climax activities marking their maiden Budzugbu festival at Nyagbo Sroe.
The festival was instituted to commemorate their exodus from Efutu Awutu in the Central region through Agu Nyagbo in the 18th century to their present place of abode in the Volta region. The festival 'Budzugbu' which means 'we have finally settled' was also to commemorate the founding fathers of Nyagbo whose efforts secured the Nyagbo State.
The week-long activities included a quiz competition among Junior High Schools, prayers and music and dance performances.
Organized by the Otugba Foundation, a local non governmental organization on the theme ' Development in Unity', the festival attracted several eminent persons, opinion leaders, politicians and tourists..
Nyagbo is part of the Guan speaking people and it comprises Sroe [Banya], Fiafe [Fiaxoe], Konda [Begbe], Kume [Okum] and Agodome [Orgodome], Odumasi [Odumase], Emli [Bazeh] Anyigbe [Bamale] and Gbabefe [Gbahu], the paramountcy.
Addressing the durbar, Ashuigbagbla Nyagasi V, Paramount Chief of the Nyagbo Traditional Area who is an Appeal Court Judge appealed to the goodwill of the people to help contribute towards the development of their communities.
He noted that they were one united family but had so many challenges which nearly threatened to sow a seed of discord among them.
"In line with tradition, law, custom, practice and usage, the Ashuigbagbla is the father for all Nyagbo citizens, in this light, I would like to invite the prodigal children to come back home where honey and milk is in abundant", the Paramount Chief stressed.
Mr Joseph Amenowode, the Volta Regional Minister who is also the Member of Parliament for the area commended the people for the peace and unity in the area which was a sure panacea for development and assured them that the construction of the Konda road was on course.