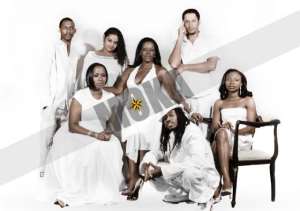 I look around me and sigh. It's a big sigh. The kind that you let out when you're on the verge of frustration. I squint out my window at the entrance of the Fiesta Royale Hotel and contort my lips into unimaginable curves. For the last twenty minutes I have been driving around the suburbs of Dzorwulu in an unintended maze. I've been invited to a photo shoot for MOKA Entertainment. I'm twenty minutes late... and I'm miserably lost. Geography obviously isn't one of my favourite subjects.
Beyonce's "Ave Maria" suddenly blasts out my phone and I answer with relief. I've been expecting this call. It's from Rich Hackman. "Fantastic! See you soon" I exclaim as I turn around and head to MOKA studios. Hopefully…this time…on the right track.
MOKA Entertainment is popularly known as the brain behind the hit play "Romantic Nonsense" and the jazz single "Akwaaba Obama". It is the multimedia branch of MOKA Holdings which handles film, television, theatre performances, radio shows and large scale entertainment events. MOKA Entertainment is also an artiste management firm representing artistes in the performing arts – music, acting, painting, photography and modeling. They were recently chosen to serve as producers on three shows in Ghana and Nigeria for US based television station BET (Black Entertainment Television). In the last few months they've been working on a new reality show set to premier in Ghana soon.
"Tea or coffee?" "Uhhm…a glass of cold juice would be nice" I reply with a smile. After the last twenty minutes or so driving around nowhere, the last thing I needed was extra warmth to my already fried up brain.
Sipping my glass of Ceres, I watched as Alero dabbed faces and Rich tweaked and turned positions to perfection. "I wanna see pearly whites!" he instructed. Teeth are revealed, lights and snap snap snap. "Amazing! Lights higher please...Love it! Gorgeous!". Rich's seemingly effortless art of photography was admirable.
I looked on. Fascinated. As Yasmin and Ofie sang to each other…subtly unaware of the camera snapping away. Yasmin is the lovely daughter of Faisal Helwani. She's been singing since she was two and has recently signed on to MOKA to re-ignite her love for singing and hopefully make a career out of it. Ofie Ofuatey - Kodjoe has been singing as a professional since 1982. She is one of the founding partners of MOKA which is actually an acronym for Magnificent, One Of A Kind, Kinetic, Artistic.
The two are off the set now and join Madjiki and I as we start to talk about their music career. The other artistes get their photos taken. Ofie tells me about Hamiba. A shop in LA where every single track you can think of is sold. She exudes such affectionate passion as she talks about how, together with Alero Amoye, they've turned their thirteen years of friendship and like passion for music and entertainment into a business. MOKA Entertainment has been active in Ghana for close to two years but already they seem to be hitting all the right notes. I laugh out loud when Yasmin tells us of a time when she had to 'pirate' a very old track she had borrowed from the library because she loved it but couldn't find it anywhere else. Their craze for music was contagious.
My attention is drawn back to the set as Kojo Osew of Stars Of The Future fame sings along to 'Sanbra'. Kojo has also been signed on to MOKA and has already done some collaboration with Becca and Ohemaa Mercy. Kojo is into "urban flow with a modern contemporary twist" I'm told. An unassuming talented admirable young man who Alero strongly believes is on the road to stardom.
Next on set is Commander Messiah, a young man whose looks reminds me a bit of Lil Wayne. He has a remarkable love for Reggae that is portrayed in his entire look. He has recorded with Samini and VIP and his next album, Cry of The Sufferer, recorded in Ghana and mixed in Jamaica, is set to be released in a couple of months.
I'm taken aback by a strikingly deep masculine voice right next to me. It's Felix Afrifa Galitskikh, aka Integral. Felix is one of MOKA's artistes. He's a media artist and into alternative classical rock and contemporary art. Felix likes to engage his music with a narrative performance.
I look around the room as Alero leaves me for a moment to see Felix off. We've been having a hearty conversation about the events industry in Ghana and how average it seems. We both agree there's a lot to be done to enhance the industry locally. But how? I identified with her in a lot of ways and shared her frustration in trying to be different in a good way and being branded as supercilious instead.
MOKA is set to change the industry in a lot of ways, she shares with me. I admire her courageous passion and respect her zest to lift the industry's image "the MOKA way". We need more pioneers like Alero and I certainly look forward to the launch of their new website and the lavish affair being planned to introduce and celebrate MOKA artistes later this year. Read all about MOKA @ www.mokaentertainment.com
Credit: Gloria Buckman – planitghana.com