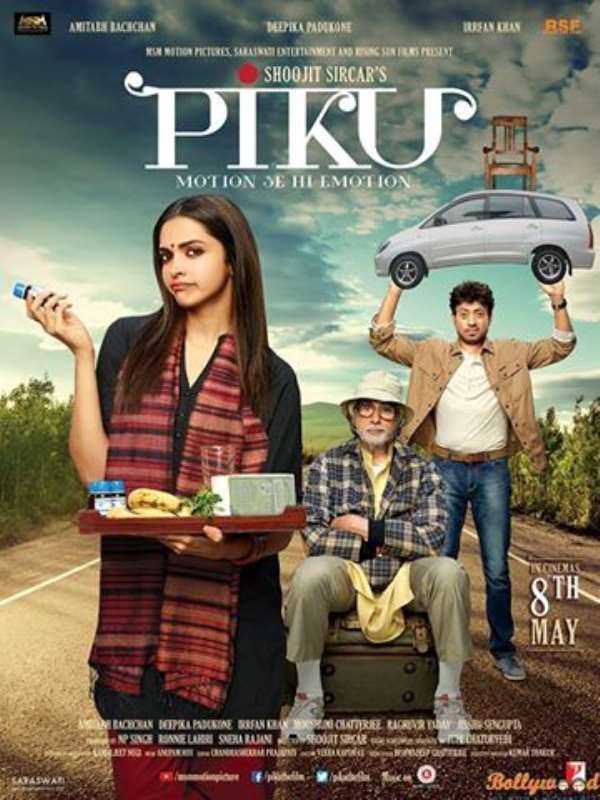 piku
Women-oriented movies are a big business now. A few years back, they were scoffed at and consigned to 'women only' category as audience was limited for these targeted movies. Some became a commercial hits but others were the festival stuff or critics' 'delight'. But they were not on par with heroes' commercial movies.
Over the years, matters have changed gradually. Heroine-centric movies are not only being watched, they are doing big business. The heroine is slowly becoming the 'hero'. Each heroine is doing at least one woman-centric film. They are low-budgeted so if they make profit, it is like icing on the cake. Mind you, they are not artistic in the traditional sense or parallel cinema. The line has blurred. And these movies are totally mainstream. These movies add to their acting portfolio too. While some women roles are memorable, many films are based on women.
Right from Seeta Devi (Durgesh Nandini, 1927), Zubeida (Alam Ara, 1931), Leela Chitnis (Bandhan, 1940), Nargis (Mother India, 1957), Madhubala (Mughal-e-Azam, 1960), Meena Kumari (Pakeezah, 1972), Simi Garewal (Karz, 1980), Meenakshi Seshadri (Damini, 1993), Aishwarya Rai (Provoked, 2006), Preity Zinta (Kya Kehna, 2000), Tabu (Chandni Bar, 2001), Karisma Kapoor (Zubaida, 2001), Lisa Ray (Water, 2005), Kajol (Gupt, 1997), Shilpa Shetty (Phir Milenge, 2004), Sushmita Sen (Filhaal, 2002), Mallika Sherawat (Murder, 2004), Vidya Balan (Kahaani, 2012), Rani Mukerji (Black, 2005), Kareena Kapoor (Heroine, 2012), Priyanka Chopra (Mary Kom, 2014), Kalki Koechlin (Margarita With A Straw, 2015), Kangana Ranaut (Queen, 2014), Anushka Sharma (NH10, 2015), Alia Bhatt (Highway, 2014), and Deepika Padukone (Piku, 2015), and the list continues to 2015 and still pouring. It will go on till the cinema is alive, for without women there is no life.
Back to Piku. It is the story of a father-daughter relationship that is surviving with bowel movements and then a road trip! Well, this is the gist of the story.
70-year-old Bhashkor Banerjee (Amitabh Bachchan) resides in Delhi along with his 30-year-old daughter Piku (Deepika Padukone). It is not easy tolerating Bhashkor as he is obsessed with his bowel movement. Piku works to run home. She has her own insecurities and ways to deal with them. Rana Chaudhary (Irfan Khan) is a taxi company owner, who secretly admires Deepika and helps out this Bengali family. As Bhashkor ages, he wishes for a trip to his home place Kolkata. Due to his bowel habits, he cannot think of travelling in plane. So a road trip it should be in Rana's cab with the potty place on top of the cab. Constipation plays a deadly role in cutting short Bhashkor's long life. Relief. Piku unites with Rana or on some such note the movie ends.
The story is simply but the light hearted comedy arising out of Amitabh's constipation propels the movie. Of course, there is a real father - daughter relationship that at times is turbulent. Akshay Oberoi is in a cameo as Dippy's suitor. It was a delight to see Moushumi Chatterjee in the movie. Well, the movie could be called deePIKA (not PITA or PAKA) or PADUkone (stinks!) so a combo resulted in PIKU.
This is a sparkling, heart-warming movie that gladdens the cockles of the heart. At times I sympathized with the father but most of the times I empathized with the daughter. I could understand her dilemma although the constipation part was new. And those associated weird sounds! Yuck! Three odd people come together and make a watchable whole. Not an easy thing in these times of picture perfect movies.
So, next year, same time when Dippy gets her National film Award, don't forget that I already told you so via this review. Dippy is going from strength to strength. With Kat out of the way, this movie will further consolidate her position of being the number 1 heroine. And rightly so. She deserves it. This movie is the proof.