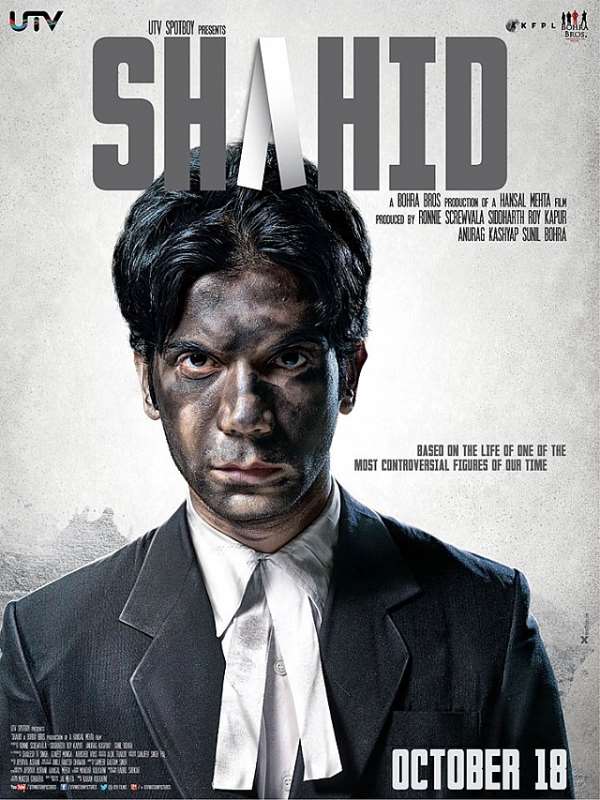 hindi, film, shahid, review
This is the one. It is one among us. If anyone wishes to see India, s/he should see its middle-class. For that is where changes happen largely. No society can say it is rich or poor for its belly constitutes the middle order and that is where the true opinion comes from. And the Indian middle-order has the clean, bare and stark look that doesn't need gloss and hits you right in the middle.
And this is where the muddle too occurs. The fight between the good and evil is truly reflected here. The hero can neither fall, nor rise. He maintains his mid-level. And this is what is shown in SHAHID too. It is the fight of human spirit against the gross injustice of a stagnant system. The struggle and the spirit to overcome it and rise against all odds triumphs. When the chips are down, can anyone make his way out of it. Well, this is where our middle-class hero triumphs and shows where there is a will, there is a way.
Everyone craves for riches in this life. Is life only for enjoyment? What about living for others if life didn't do anything for his own self? This selflessness shines throughout SHAHID and makes it a refined gem. If you sacrifice (shaheed) yourself for others, you conquer your own inner demons. Some die for their country, others die for their country men. And make the society a place worth living in.
SHAHID traces the true story of slain human rights activist and lawyer Shahid Azmi. From attempting to become a terrorist to being wrongly imprisoned under a draconian anti-terrorism law to becoming a criminal lawyer, SHAHID traces the inspiring personal journey of a boy who became an unlikely messiah for human rights while following the rise of communal violence in India. This story of an impoverished Muslim struggling to come to terms with injustice, inequality and rising above his circumstances is an inspiring testament to the human spirit.
In a dog eat dog society; there is a ray of hope in the form of a much-abused man, who takes on the system itself. He doesn't know NO. He knows there is light at the end of the tunnel irrespective of the tunnel being dark. He gropes and wins few cases. But when the evil rules, any ray of light is intolerant. The light must be extinguished and it is. But not before it has been passed in to many others, who face injustice. The fight goes on. The message clearly shows: don't give in, no matter how much time passes or even if lives are lost. It is the second Independence call for Indians. Earlier British looted India. Now Indians are looting and killing Indians. The system must change if Indians have to live in peace in India.
Raj Kumar Yadav brings out this middle-class angst. He is not playing a role, he is living it. He is Shahid. The torture comes alive through him. His life has been wasted. He has been wrongly implicated. How will the society accept him? But he flows against the tide and shows if one is determined, then the world is his oyster. To keep sanity, when everything is going wrong is portrayed so vividly that the viewer feels it is a piece of everyday life. There is no crass glamour. The courtroom drama and false verdicts are portrayed as they are delivered. But the system produces someone to counter it. Could anyone have played it better than Yadav? The answer lies in will there be another movie of SHAHID's calibre?
Credit should also be given to director Hansal Mehta for having the conviction to go ahead with the project and bringing out a gem that will be appreciated for ages to come. He makes the viewer live through the movie and come out hopeful. This year cardboard heroes were rejected. And larger than-life-movies bit the dust. But the middle class hero came alive with KAI PO CHE (Sushant Singh Rajput) and SHAHID continues the trend for Yadav. The Indian hero has arrived.
If you want to steel your determination and live as per your convictions, then go ahead and see how life can turn out for a junooni. Akela chana bhaad phod sakta hai. There is nothing right or wrong. There is only a middle-path. And that could be fatal too. Will you take a chance? I did. I watched the movie. I identified with Yadav's portrayal. The movie shines solely due to his presence. Rest everything is inconsequential. And can only say,
Uchhal kar woh nahin chalte, jo maahir hon kisi fan mein
Chhalak jaate hain paimaane, hamesha chhote bartan mein.
Small movie. Big impact. The arrival of a middle-class hero, where the spirit of India lies. Get going.