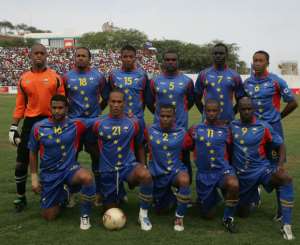 For a small island nation that beat a soccer power nation such as Cameroun on its way to South Africa, Cape Verde cannot be labelled as soccer minnows. Considering its "surprised" performance so far-drawing with S. Africa and Morocco and beating Angola, one would be making a big mistake to take the team for granted. Many people in Ghana think that soccer ( football) is only for the countries that parade all foreign based players and have made historic names. Well the Cape Verde team has challenged all these assertions and are on their way to making more soccer history. According to their coach, a full time air traffic controller turned part time coach, their goal was to rub shoulders with some of the Africa's best and Ghana is their dream come true. Is this a threat to Ghana's soccer ambition at this tournament? Who are these people from Cape Verde? This article answers some of our interesting questions:
Poor in natural resources, prone to drought and with little arable land, the Cape Verde islands have won a reputation for achieving political and economic stability.
The former Portuguese colony comprises 10 islands and five islets, all but three of which are mountainous.
During the 20th century severe droughts caused the deaths of 200,000 people and prompted heavy emigration. Today, more people with origins in Cape Verde live outside the country than inside it. The money that they send home brings in much-needed foreign currency.
From the mid-1990s, droughts cut the islands' grain crop by 80%, and in 2002 the government appealed for international food aid after the harvest failed.
Increasing numbers of Europe-bound migrants have been intercepted in Cape Verde's waters
Nonetheless, Cape Verde enjoys a per capita income that is higher than that of many continental African nations. It has sought closer economic ties with the US, EU and Portugal.
In 2008 Cape Verde became only the second country after Botswana to be promoted by the United Nations out of the ranks of the 50 least developed countries. In recent years it has seen economic growth averaging 6%, the construction of three international airports and hundreds of kilometres of roads.
Tourism is on the rise, but there are concerns that it poses a threat to the Cape Verde's rich marine life. It is an important nesting site for loggerhead turtles and humpback whales feed in the islands' waters.
Cape Verde became independent in 1975, a year after its sister colony, Guinea-Bissau, won freedom from Portugal. The two countries planned to unite, but the plan was ditched after a coup in Guinea-Bissau in 1980 strained relations.
In 1991 Cape Verde held its first free presidential elections, which were won by Antonio Mascarenhas Monteiro, who replaced the islands' first president, Aristides Pereira.
Soccer Experience
In a sports report filed at Yahoo.com, Cape Verde is described in positive terms: It begins as:
Football history is full of unlikely upsets and fairytale victories, but few compare with the tale the dream-weavers of the Cape Verde Islands are spinning in their first ever appearance in the African Nations Cup finals.
Their progress from an obscure footballing backwater ranked 182nd out of FIFA's 200-odd members a decade ago to a place just outside the top 50 last year is a remarkable rise by any standards.
Compared to club football, their arrival equates to the rise of German village side Hoffenheim, who came from regional obscurity to a place in the Bundesliga in 2008.
Reaching the Nations Cup last eight is reminiscent of Wimbledon, who rose from the anonymity of the English minor league game where the won the old FA Amateur Cup in 1963 to reach the top tier and beat mighty Liverpool in the FA Cup final itself in 1988.
At international level, the achievements of Cape Verde, who with just 500,000 inhabitants are the smallest country ever to play in the finals, will strike a chord in Costa Rica, Trinidad & Tobago and even Cameroon, who they defeated 3-2 on aggregate in the qualifiers to reach the Nations Cup finals for the first time.
All of those countries exceeded expectations to reach and impress at World Cup finals and Cape Verde's performances here will have special resonance in Yaounde, the Cameroon capital.
Well, with such a background, we are expecting our national team to do their own home work well by studying the Cape Verde team to be able to neutralize their powers and to beat them mercilessly. We trust our boys under Asamoah Gyan to make Ghana proud. Please do not underestimate this Cape Verde Team. Good luck to Ghana.