OKUAPEMMAN Asoociation of USA and Canada host 2012 Odwira festival in Washington DC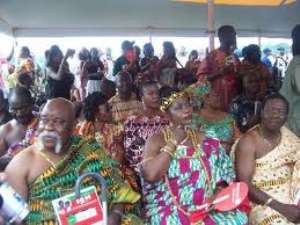 The Okuapemman Association USA and Canada bring their annual International Cultural Extravanga dubbed ODWIRA 2012 to Washington DC on the 1st of September, 2012 at the posh Hilton Hotel at 5000 Seminary Road in Alexandria, Virginia, USA
To many Ghanaians abroad, life can be very boring because of the demands from work and job. A typical life abroad is 9:00am to 5:00pm: In many communities, people spend about 2-4 hours commuting. Weekends are also demanded especially for people who have kids or families living with them as the kids are mostly home. Life therefore, is all work and few times for socialization. To meet such and other welfare needs many Diaspora Ghanaians who identified themselves as belonging to the same cultural communities in Ghana have founded or formed welfare groups to support life abroad.
Among the groups are ASANTEMAN Unions, FANTE UNIONS, OKUAPEMAN Associations,OKYEMAN Unions, Ga-Adangwe Union, the Ewe Associations, The Nzema groups, The Bono and Ahafo Societies, The Northern Fraternities, The Volta Associations are some of the numerous unique names. Some of these associations have become national in nature as they have branches in most of the major towns in which Ghanaians have concentrated residence.
Some of these organizations make careful efforts to organize programmes that help to promote and preserve the culture and traditions of their home communities. Among some of the projects are Community dances, Folk Festivals and Fund-Raising Events. It is against this background that the ODWIRA festival abroad that is being organized by the OKUAPEMMAN Associations to coincide with that of local communities in Akuapem Ghana is very significant and must be commended.
In a conversation with our representative of the PREKESE GhanaMedia in DC, Nana Amoaba Botwe I, an African American spiritualist who is associated with Larteh-Kubease, and Mr. Eric Akyeampong, a Washington DC Okuapemman Association executive, the festival will feature cultural events such as a durbar which will showcase traditional drum and dance performances such as Kete, Adowa and Fontonfrom, picnics and evening dance. It's your culture, Come Celebrate it:
For Further info: Contact the following:
1. ERIC AKYEAMPONG -240-353-2868
2.MARGARET AMPOFO- 301-717-9871