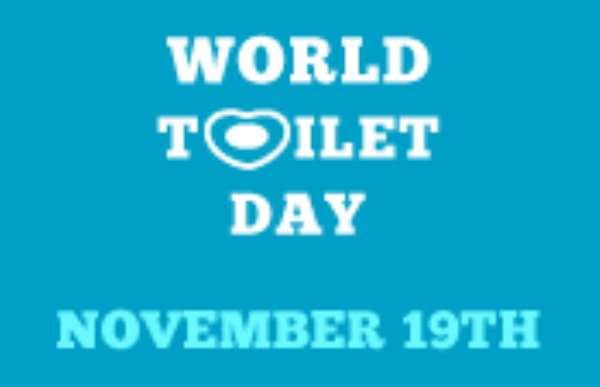 "Nobody talks about toilets, toilets aren't sexy, sanitation isn't sexy,"
"Water supply gets a lot of attention, gets a lot of money, gets a lot of funding, gets a lot of Government support, but stuff like sanitation is often forgotten.
"Nobody's responsible for it [and] people often point fingers." Mr. Dag Akyeampong, an educator, a former Assemblyman of the Mfantseman Municipal Assembly and currently a development consultant made these observations during a seminar and clean-up exercise at Mankessim marking this year's World Toilet Day (19th November).
The celebration in Ghana held at Mankessim was hosted by three NGOs, the Centre for Human Development & Social Change,Ghana; the International Centre for African Culture and Arts (USA) and OBAATANPA International of USA.
Mr. Akyeampong called on the government to pay more attention to sanitation issues and possibly to create a ministry and appoint a minister in charge for proper management of sanitation.
In Ghana, the problem of lack of proper access to toilet and sanitation facilities is alarming and its potential to cause epidemics is very real everywhere. Especially at the time we are experiencing intermittent rains here and there, the people cannot feel safe because most of the drinking water source are likely to be contaminated.
Think carefully about it, a world in luxury without toilet facilities? Look at the inconvenience we go through when we visit a village ( those of us living in the cities) and we do not have the type of luxurious toilets that we have? Look at what happens when there is no water flowing and the "restroom" is full? OMG...the stench....!
As recently as March, 2010 Ghana National College was in the news because its students had to queue to use the toilet.
If people were asked to narrate stories about their not too pleasant experience with nature's call, you would be surprised of what you would read. We all have stories to tell about our experience at home, school, religious centres and in transit as we travel. Do you have Toilet facilities in the house you live or you use public toilet all the time? Do you know how many people in Ghana who do not have access to clean and safe toilet facilities? Do you know that lack of proper toilet and the use of unhealthy places of convenience is the cause of many diseases in Ghana especially Diarrhea.
It is to create awareness about the importance and the need for our people to have access to these facilities, solicit collaborative mediation and to influence government's policies that we celebrate such an important occasion in Ghana.
To help readers to know more about what the WTD is......we have culled the following information for your perusal:
November 19th is World Toilet Day. It is a day to celebrate the importance of sanitation and raise awareness for the 2.6 billion people (nearly half of the world's population) don't have access to toilets and proper sanitation.
Diarrheal diseases kill five times as many children in the developing world as HIV/AIDS. That about 5,000 Children are dying everyday. Not only that, but the disease kills more children than either malaria or AIDS, stunts growth, and forces millions - adults and children alike - to spend weeks at a time off work or school, which hits both a country's economy and its citizens' chances of a better future.
The majority of the illness in the world is caused by fecal matter. Lack of sanitation is the world's biggest cause of infection. One gram of feces can contain 10 million viruses, one million bacteria, 1,000 parasite cysts and 100 parasite eggs. Safe disposal of children's feces leads to a reduction of nearly 40% in childhood diarrhea.
OUR COMMENTS:
Yes, we are talking about Toilet but in a more serious way and for good reasons, we believe that people will be informed to do the right things at the right time to prevent untimely deaths of our people through neglect. It is our hope that the government take the call seriously and will support the efforts of such development organisations, communities and its own ministries in charge to help manage the staggering issues we face in sanitation.