Mental Health Bill ought to be considered by Parliament…as it will be of essence to the whole nation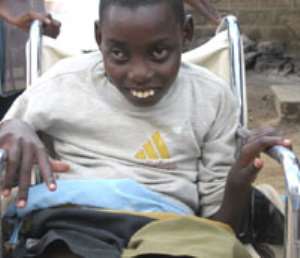 Till date, people with mental disabilities have not yet known their fate, as the decision by Parliament to make them feel welcome and safe in their own country is still being delayed. It is assumed by many people that these mentally disordered people need no attention, but ought to be kept in a place away from society.
The day-to-day campaign by health practitioners is being frowned upon by many people, as they claim that even the issue of people in their right senses has not yet been dealt with, how much more people with disordered senses. According to them, the government should deal with matters of the economy, defense, democracy and the health of the labour force, than spending time and money on people who are in no position to help the nation development.
It is unfortunate that to date people have no idea that mental illness has no respect for people, no matter how cautious one is. Unlike dreadful diseases like HIV/AIDS and hepatitis, where one takes precautions and even gets vaccinated against them, mental illness has no precautionary treatment.
Forms of mental disorder
It must be noted that mental illness does not come only by the use of illegal substances such as cocaine, marijuana, or heroin, but affect anyone, no matter how careful one is with his or her life. According to medical experts, mental illness does not necessarily mean being violence, aggressive, dirty, and roaming in the streets, but also in the form of moods and anxiety, personality disorder, odd unusual behaviour, dramatic, emotional or erratic behaviour, and psychotic disorders, that is "hearing things" or "seeing things" in the form of hallucinations.
Even though the mentioned ones seem to be mild, and the victim, not having the tendency to harm people, its prevalence has the propensity of resulting into organic brain disorder, which is the most serious aspect, and is been fought against by mental health practitioners and many international organisations.
Mental health bill
According to records, the colonial maters (the British) thought it wise that it was not fair to keep people with mental illness in prison, and be regarded as criminals. They therefore passed the first legislative instrument, the Lunatic Asylum Ordinance, Cap 79, to establish a lunatic asylum to provide care for the mentally ill, under the Department of Health.
The ordinance was then turned into a mental health act.
Mental illness practitioners in Ghana, together with some accredited international well recognised organisations like the World Health Organisation (WHO), have recently come to the realisation that the Mental Health Act 1972 was outdated, and not in accordance with the best practices standards for the neo-natal health legislation. It is with this reason that the mental health bill 2009 has been drafted to replace the mental health act 1972.
Unfortunately, this bill has been presented in Parliament, but has not yet been made into law, and time is running out, with the people agitating as to whether or not it would be considered or not.
The dalliance in the enactment of this law has not been explanatory enough, as this law was already in existence, but only needed to be replaced by a more updated one, which would be of immense help to people who find themselves in such a situation.
The government, claiming to have the good of the people at heart, should not exempt the good of people with mental disorder, as they desire not to be in the present position they are now. There is the need for the government to start putting into consideration the happiness of people with mental illness, since their condition deters them from enjoying any form of rights citizens should enjoy.
It was a good thing to hear the Minister of Employment and Social Welfare, Mr. E. T. Mensah, announcing that he, together with the ministry in charge of the mentally disordered, would work hard to bring to fruition the enactment of the mental health bill.
Importance of the Health Bill
It is obvious that many people feel very uncomfortable and unsafe around a person with mental illness, as there is always the probability that the person might turn violent and attack anyone.
Many years ago, it was alleged that a mentally disordered man raped a woman at a market place in Takoradi in the Western Region of Ghana. The scene was so horrific that no one could rescue this woman from the grip of the man, as the strength of this mentally disordered man was extremely intense.
People with mental disorder make it a habit of chasing people around, scaring people passing by and even scattering the items of market women, no wonder people always throw stones and sticks at them whenever they are passing by, to prevent them from harassing people around.
It is for this reason that the bill needs to be enacted into a law for its implementation to start. According to the bill, a police officer may remove a person to a facility or mentally health facility for assessment under a certificate of urgency, if that person is found in public appearing to be suffering from mental disorder and is highly aggressive, or showing out of control behaviour, and appears to require immediate care, control, and treatment.
A person being removed to a facility or mental health facility by the police, may be taken to a place of safe custody when transportation is not immediately available, and be detained there for a period not exceeding forty-eight hours.
This part of the bill gives surety to people that, at least, they will be safe in the environment, without any harassment from any mentally disordered person. The environment will be more clean, spacious and not congested, as every mentally disordered person loves to create a place for him or herself, and call it home, no matter how filthy the place may look.
The little portion of the mental bill makes it evident that the enactment of the mental bill into law by parliament will be of help, not only to the people with mental illness, but the nation as a whole.
Conclusion
Research indicates that mental illness accounts for an estimated 14% of the global disease burden, and according to officials from WHO, approximately 10% of Ghanaians suffer from a mental disorder. This figure does not end there, since each passing day a person becomes a victim of this brain disorder.
Obviously, as the number increases, the number of the labour force as well decreases. If the government really has the good of the people and the nation at heart, it should take the bold step and get Parliament to enact this bill into law, for it to be implemented, and as well make provision for its implementation, by increasing the number of psychiatric hospitals, doctors, and nurses in the country.