Rejoinder: The swing voter: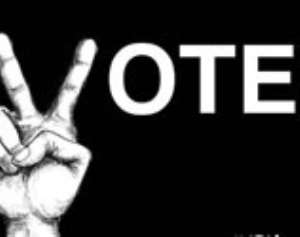 Floats like the butterfly, stings like a bee I write in response to Gabby Asare Otchere Darko's simplified analysis in his article published extensively in the media last week. The article in my view fails to address the very issue it sought to address, that is the unscientific claim of attracting floating votes by some of the New Patriotic Party's flagbearer aspirants.
The primary elements for any political campaign strategist to identify are the decision making blocs, which will include the majority decision making bloc and the kind of factors they consider in arriving at their choices. In contemporary strategy formulation, one will also give credence to the decision making processes this majority unit go through in order to arrive at a conclusion.
In clear terms, such a bloc's characteristics are fundamental to campaign strategy formulation. For example, the strategist needs to determine their demographic factors as well as their orientation; what their sources of information are; their aspirations or ambitions in life and if possible challenges they face like unemployment and poor health system.
Polling Station Executives
Analysis of the Polling Station Executives data reveals some interesting facts. More than 60% can be described as youthful, many of them are unemployed and underemployed, most have educational background of at least Junior High School level, quite gender biased with a considerable size of males, many have held party membership for more than four years among other factors.
I concede that there are both floating and swing voters during general and political party elections. However, one can establish that, the culture of floating voting is more significant during general elections than in intra-party primaries in Ghana. My argument is solidly based on an appraisal of the selection procedures of the Electoral College of our party, the New Patriotic Party.
Any observer of the New Patriotic Party's internal politics will agree that, the measure of about 35% floating voters according to Afrobarometer Surveys in Ghana will be an exaggerated figure. The processes of selecting the Electoral College are hugely influenced by interest groups in the party and are therefore partially responsible for this disposition of members.
The figure cannot be similar or anywhere close since not all Card bearing members are part of the Electoral College as it pertains in both the Republican and Democratic Parties of the United States.
In spite of the above, I believe that many members of the Electoral College become assertive when they recognize their mandate, especially as they trace it to the Party's Constitution. This makes their decision making more personal and involving.
According to a Research carried out in March 2008 by The Daily Dispatch Newspaper edited by the well recognized Pollster in Ghana Ben Ephson, indicated that, Voters' attitudes are predisposed in three key ways with their respective scores as follows; The Political Party 26.8%; Personal Attributes 68.7% and Ethnicity 4.4%. It is imperative therefore to state that, the personality and personal attributes of the prospective presidential candidate of our great party is very essential in the skim of things.
In Gabby's article, he however fails to appreciate the essence of relativity by preposterously refusing to compare Nana Addo's performance in four key swing regions with former President Kufour's in 2004.
The basis of this comparison makes both statistical and common sense since the party occupied similar positions during both elections.
The article inaccurately claims that both Nana Addo and Prof. Mills can significantly (scientifically) lay claims to have the ability of attracting the much important floating and swing voters.
This conclusion according to the article was arrived at through the analysis of the 2008 general election results. This is a very creepy and presumptuous form of analysis and the conclusion thereof is only a favourable one towards Gabby's interest.
Gabby also concluded that Nana Addo has a better case because he showed in 2008 that he can attract floating voters by getting more than 49%. This does not make statistical sense at all. Analysis of the 2004 and 2008 general election results in Greater Accra, Brong Ahafo, Western and Central regions strongly weakens Gabby's argument.
In the Greater Accra region, Nana Addo lost seven percentage points (7%) representing 141,694 votes of the total votes as against what President Kufuor got in 2004. The lost votes were mainly the floating and the swing votes since we all agree that party members and sympathizers are usually loyal with their votes.
Nana Addo as the leader of our great party lost a total of 188,394 votes in Western and Central regions while as his performance in Brong Ahafo region left much to be desired. Basing on Gabby's assumption about party loyalty which I share, I can say that all New Patriotic Party members and sympathizers voted for Nana Addo hence the lost votes can be said again to be the 'golden' floating and swing votes. I can be unequivocal about the fact that Kufour won more floating voters in 2000 and 2004 than Nana Addo did in 2008.
It is also interesting to know that, even in Nana Addo's home region, the Eastern region something strange happened but my big brother Gabby refused to analyze (may be due to oversight). Nana Addo lost 55,325 votes in relation to 2008 general election results.
The most outlandish outcome happened in the Constituency where Nana Addo was a Member of Parliament, Abuakwa North where New Patriotic Party lost almost 2,000 votes in relation to what Kufour had in 2004 (It was part of Abuakwa Constituency before 2004).
How does this outcome in Nana Addo's own backyard convince the delegates that he can win 2012 election for the party by attracting more floating and swing voters?
In comparing Nana Addo's performance to our party's Parliamentary Candidates, another vital point emerges that shows that there is something about Nana Addo that does not appeal strongly to the swing voters. In 2004, President Kufuor had 285,092 more votes than the aggregation of the party's Parliamentary Candidates votes, but in 2008 Nana Addo won only 155,617 more votes than the party's Parliamentary Candidates.
Fairly speaking, Nana Addo should have received more votes than what President Kufuor had in 2004 in relation to the party's parliamentary candidates because we had relatively more New Patriotic Party-Independent Candidates during the 2008 elections especially in some of our strongly-held Constituencies and regions such as Ashanti, Eastern and Brong Ahafo. It is only fair to conclude that, indeed someone other than Nana Addo has the kind of persona that can do the magic President Kufour did.
Parliamentary Candidates
Interestingly, there are some Constituencies that the Parliamentary Candidates out performed Nana Addo, a case in point is Tafo-Pankrono which has some significant floating voters and other party's sympathizers. If Nana Addo was that attractive to floating voters as Gabby sought to portray in his piece, why did Akoto Osei beat him in Tafo?
Also in the Volta region, our party's most difficult region politically, another interesting episode emerged that statistically threw Gabby's simplify analysis over board. According to the results of 2008 general elections, Nana Addo lost almost 20,000 votes to all the Parliamentary Candidates where in 2004 President Kufuor won over 62,000 more votes than the party's Parliamentary Candidates.
One can draw another presumption from the above that, in such a region our 2008 flagbearer was less attractive than the Parliamentary Candidates the party presented.
It stands to reason that, in order for the New Patriotic Party to win enough votes from such a region, the delegates must look for someone who has a better appeal to swing voters than Nana Addo. We owe it a duty to convince ourselves that there is little that we can do about someone's persona and the more we believe that we can change the thinking of the masses the more we will keep ourselves out of government.
The surest means to attract more floating and swing voters to New Patriotic Party in 2012 is to identify their expectations and major challenges. And communicate them dispassionately among the party's delegates so that they can elect a Candidate for the party who can be marketed to the nation at the least cost especially to the floating voters.
The floating voters need productive employment through which they can share in the wealth of the nation. They need a leader who is more youthful and humble so that they can feel at home with him.
They need a leader who can usher in a new generational leadership that will guarantee a secured future for them and generation yet unborn. Above all, they are yeaning for the kind of leadership that is intensely action-oriented, passionately mission-minded, very demanding of results, has no time for bureaucratic inertia, and chases progress.
The floating and swing voters require a President who is more capable to drive our developmental agenda forward by putting the nation on a "war footing" changing attitudes, restoring the culture of hard work and putting people into productive employment.
Among the aspirants vying for our party's flagbearership position, Alan Kyerematen symbolizes the above expectations and is more ready to provide that kind of leadership.
Nana Yaw Adutwum NPP Member, Asante Akim South Contact: Email:[email protected]